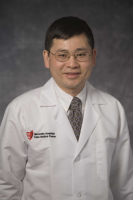 University Hospitals (UH) Seidman Cancer Center patient Richard Bartlett, 62, of Magnolia, Ohio, has become the first in the nation to enroll in a new study for very high risk head and neck cancer.
"The study is one of the first ever to use 'quadra-modality' therapy, or in other words, four different types of therapy for this cancer," said Min Yao, MD, PhD, (pictured left) the UH principal investigator, a radiation oncologist at UH and a professor of radiation oncology at the Case Western Reserve University School of Medicine.
Standard treatment for this cancer is surgery, followed by radiation and chemotherapy. This study will add an immunotherapy drug called pembrolizumab to activate the body's immune system in the fight against the cancer. The drug, originally developed to treat melanoma, made the news in 2015 when President Jimmy Carter was treated with it for his brain metastases from melanoma.
Bartlett volunteered for the study for several reasons. "I want to have the best outcome possible," he said, "and I have a responsibility to my family. I also know that people in the past have made sacrifices for research and I know cancer research is in its infancy in many ways and I'd like to do what I can to help."
Pembrolizumab is one of the first immunotherapy drugs. Instead of directly killing cancer cells, these drugs boost the immune system to do the job.
This phase I trial will study the side effects and best dose and schedule of pembrolizumab when given together with the chemotherapy drug called cisplatin and radiation therapy.
Despite advances in cancer detection and treatment, the five-year overall survival rate for high risk head and neck squamous cell cancer is only 40 to 60 percent.
"This is a four-pronged attack on the cancer," said Dr. Yao. "With surgery, we remove as much of the tumor as we can. Chemotherapy works to stop the growth of tumor cells, either by killing the cells or by stopping them from dividing. Radiation therapy uses high-energy X-rays to kill tumor cells. And now with pembrolizumab, we trigger the immune system in the fight."
This phase 1 study is for safety and will lay the groundwork for a future phase 3 study.
The study will enroll 56 patients nationally in seven study sites. Data collection is estimated to be completed by May 2018. UH Seidman Cancer Center and CWRU School of Medicine comprise the only Ohio site. The Cleveland site for the study is funded by a National Cancer Institute grant to the CWRU School of Medicine.
Bartlett's head and neck cancer was discovered after he went to a dentist for a wisdom tooth extraction and a sore on the inside of his right cheek. He thought the sore was caused by the problem tooth rubbing against the cheek. The dentist recommended a biopsy on the sore.
It turned out to be cancerous and he was referred to Pierre Lavertu, MD, Director of Head and Neck Surgery and Oncology at UH Cleveland Medical Center. Dr. Lavertu and Chad Zender, MD, of the UH Department of Otolaryngology, did the surgery.
Bartlett had surgery on Dec. 22, 2016 and his cancer was more aggressive than originally thought. He has begun his chemo, radiation, and immunotherapy under the care of Michael Gibson, MD, PhD, Medical Director of the Head and Neck Oncology Team at UH Seidman Cancer Center, and Dr. Yao of the Radiation Oncology Team. All of his physicians are members of the faculty at the CWRU School of Medicine.
Bartlett and his wife Nancy have been together for 25 years and have been married the past 10 years. They met when she worked as a cashier in a store where he was shopping. He found a plastic flower on the floor and gave it to her. "There was no turning back after that," laughed Mr. Bartlett.
For more information about the study:
UH Seidman Cancer Center's Cancer Information Service Line
216-844-5432 or toll-free at 800-641-2422.
UH Seidman Cancer Center Clinical Trials http://clinicaltrials.uhseidman.org/ (enter study NRG-HN003) and at Clinicaltrials.gov (study NCT02775812).
Back To Top