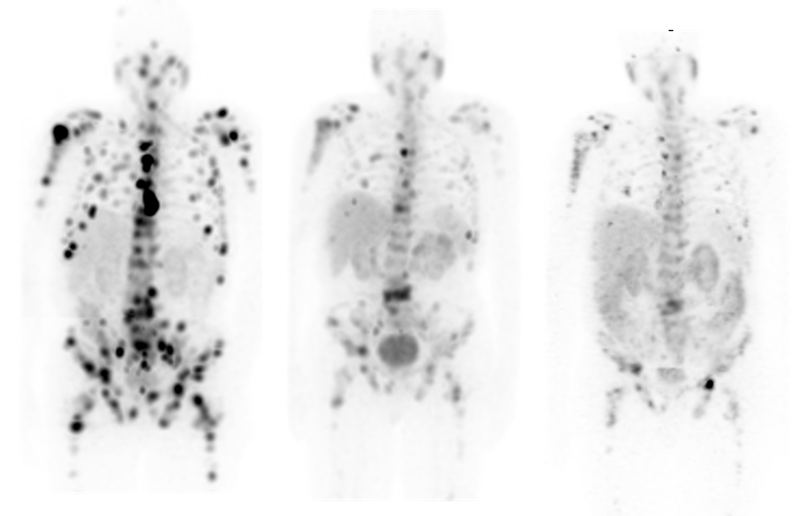 GE HealthCare announced a collaboration with Canadian healthcare institutions St. Joseph's Health Care London and the Lawson Health Research Institute in their development of a Theranostics Center of Excellence. This center will support research activities, clinical collaboration, and educational programs for the evolving practice of theranostics to elevate awareness, education, training, and access to increased patient care.
Following Health Canada and the US FDA authorization of new theranostics-related drugs and therapies, there is a surge in demand for theranostics infrastructure and best practices. Where most medical therapies are designed with the ʻaverage' patient in mind, theranostics brings together diagnoses and highly targeted treatments in one care pathway to optimize disease diagnosis and treatment monitoring with molecular imaging technologies and advanced digital solutions. Altogether, theranostics helps provide a more personalized therapy to address the needs of individual patients in a timelier fashion.
"The practice of theranostics is dramatically improving patient care – revolutionizing how we assess difficult-to-treat patients, determine the best course of treatment, and enhance quality of life," shares Dr. Narinder Paul, Lawson scientist; Chief, Medical Imaging at St. Joseph's; Physician Executive, Medical Imaging at London Health Sciences Centre; and Chair, Department of Medical Imaging at Western University. "For widespread application, we must establish clinical theranostics best practices that can easily be replicated by healthcare institutions around the world for the benefit of patients everywhere. This is the goal of our new Theransotics Center of Excellence – to advance theranostics care pathways and treat the right patient with the right treatment, the right dose, and at the right time, helping enhance patient care in our community and around the world."
To prepare for the creation of dedicated theranostics centers, the Society of Nuclear Medicine and Molecular Imaging (SNMMI) and related international molecular imaging societies published a guide for healthcare systems globally focused on best practice safety protocols and operational procedures that can be applied across care areas. Now, GE HealthCare, St. Joseph's, and Lawson are looking to go one step further, exploring potential opportunities to:
Expand production and access to radioisotopes;
Advance technologies and solutions to improve image quality, dose calculation, care coordination, and operations for the clinical practice of theranostics today and in the future; and
Educate and train global healthcare practitioners and government bodies to support the adoption and advancement of theranostics and drive improved patient outcomes.
"As a healthcare industry partner with solutions spanning from cyclotrons, chemistry synthesis, pharmaceutical diagnostics, PET/CT, PET/MR, SPECT/CT, and advanced oncology and digital solutions, GE HealthCare is strategically positioned to cover the full breadth of the patient care journey," says Mike Hamilton, President, Canada, GE HealthCare. "Together with St. Joseph's and Lawson, we are thrilled to leverage our expertise to advance the integration and application of theranostics and usher in a new era for precision care."
GE HealthCare's ability to provide solutions along every step of the patient care pathway is made possible due to an integrated portfolio of solutions, from radiodiagnostic production to early detection and diagnosis, to planning, treatment evaluation, and monitoring. St. Joseph's and Lawson are similarly well positioned to advance the practice of theranostics due to their academic prowess, ambulatory care model, and network of facilities surrounding the London, Ontario, area.
"We remain dedicated to pushing the boundaries of what is possible, so clinicians have the tools, resources, and support they need to leverage cutting-edge theranostics practices and make more confident and accurate diagnoses for patients," adds Ben Newton, General Manager, Oncology, GE HealthCare. "In close collaboration with our longtime clinical cohorts, we are proud to collaborate on a Theranostics Center of Excellence that will do just that: enable the adoption and use of more targeted and personalized therapies than ever before for improved patient outcomes."
Clinicians and patients are especially seeing success with theranostics in prostate cancer, which is difficult to treat when diagnosed at a late stage, claiming more than 1.4 million lives annually. Additionally, theranostics has applications for clinical indications including bone metastases from prostate cancer, neuroendocrine tumors, non-Hodgkin lymphoma, adrenergic tumors in addition to its well-established use for treating hyperthyroidism or thyroid cancer. There is also much potential for its expansion into other care areas in the near future, but its broader application will rely heavily on the speed of drug development and government clearance.
Back To Top