SNMMI Abstract of the Year: Dosing With Iomab-B Enables Marrow Transplantation with Long-Term Survival in AML
By News Release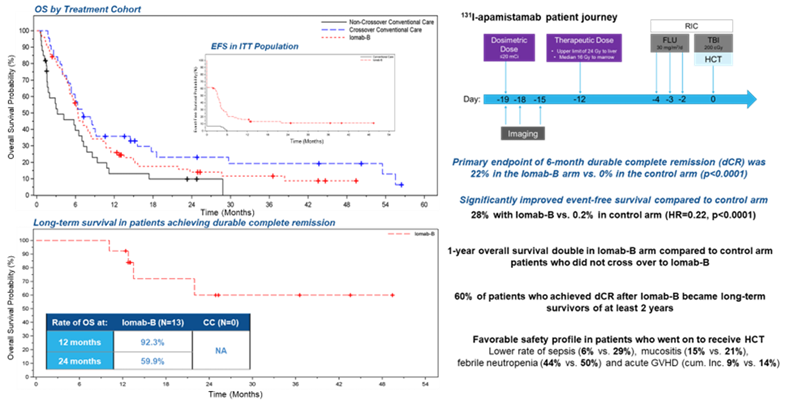 The Society of Nuclear Medicine and Molecular Imaging (SNMMI) 2023 Abstract of the Year demonstrates that personalized dosing of Iomab-B (131I-apamistamab), has been shown to successfully enable relapsed and/or refractory acute myeloid leukemia (AML) patients with active disease to successfully receive potentially life-saving bone marrow transplantation. The randomized, multi-center phase III SIERRA trial showed that Iomab-B followed by bone marrow transplantation resulted in two times greater one-year survival rate than conventional care, with more than 60% of patients who achieved durable complete remission at six months maintaining survival for two years or longer. The research was presented at the SNMMI 2023 Annual Meeting.
AML is one of the most lethal forms of leukemia in adults. The American Cancer Society estimates that 20,380 people will be diagnosed with AML and more than 11,300 will die from the disease in 2023. Patients with relapsed or refractory disease represent the largest segment of AML patients.
"Elderly patients with active, relapsed/refractory AML have a very poor prognosis and currently have very limited treatment options," noted Neeta Pandit-Taskar, MD, attending physician, Molecular Imaging and Therapy Service, in the Department of Radiology at Memorial Sloan Kettering Cancer Center, and professor at Weill Cornell Medical College, in New York, New York.
"In routine clinical practice, these patients are not being considered for potentially curative bone marrow transplant."
In the study, researchers from 24 centers in the United States and Canada investigated the safety and efficacy of Iomab-B to deliver high-dose targeted radiation to leukemia cells to enable patients to receive a bone marrow transplantation. Patients 55 years or older with active, relapsed or refractory AML were recruited for the trial. Seventy-six patients were randomized to receive individualized doses of Iomab-B followed by bone marrow transplant and 77 to receive their physician's choice of conventional care (high-dose chemotherapy). Patients receiving conventional care who achieved complete remission underwent a bone marrow transplant; those who did not respond or progressed following conventional care were eligible to cross over to the Iomab-B arm of the study. The safety profile of Iomab-B was assessed and patients in both groups were followed to determine the rates of durable complete remission (maintaining complete remission for six months from the initial complete remission after bone marrow transplant).
All patients who received the therapeutic dose of Iomab-B underwent bone marrow transplant versus only 14 patients with conventional care. Forty-four of the conventional care patients crossed over to the Iomab-B arm; 40 of them received Iomab-B and were able to undergo bone marrow transplant.
Treatment with Iomab-B was able to safely deliver high doses of targeted radiation to leukemic cells, enabling successful bone marrow transplantation. The primary endpoint of durable complete remission at six months strongly favored Iomab-B (22%) over conventional care (0%).
"This pivotal study showed that a single personalized dose of Iomab-B enabled all patients who received the therapeutic dose to have access to potentially curative bone marrow transplant, compared to only 17% of patients who received conventional care. Iomab-B also demonstrated long-term survival benefit for patients who met the primary endpoint, and safety of the Iomab-B led regimen was excellent" said Dr Pandit-Taskar. "In addition, the visibility and cross-functionality of nuclear medicine was clearly demonstrated, strengthening the collaborative effort between nuclear medicine, nursing, and transplant teams. This will add further growth and impetus to use of nuclear medicine in planning and administration of theranostic radioimmunotargeted therapy."
"The results of this trial demonstrate the significant contribution nuclear medicine offers to help change the outcomes for patients with leukemia," stated Heather Jacene, MD, SNMMI Scientific Program Committee chair. "Patients with relapsed or refractory disease represent the largest segment of AML and a significant portion of these 10,000 or so estimated patients may benefit from the results presented in this trial."
A biologics license application for Iomab-B will be filed with the U.S. Food and Drug Administration (FDA) by the end of 2023. With potential FDA approval, Iomab-B could be commercially available in the second half of 2024. Additionally, an expanded access program is expected to be made available in 2023 for institutions in the United States for relapsed or refractory AML patients with active disease.
Back To Top
---
SNMMI Abstract of the Year: Dosing With Iomab-B Enables Marrow Transplantation with Long-Term Survival in AML. Appl Rad Oncol.
By
News Release
|
June 27, 2023
About the Author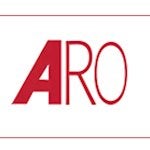 News Release