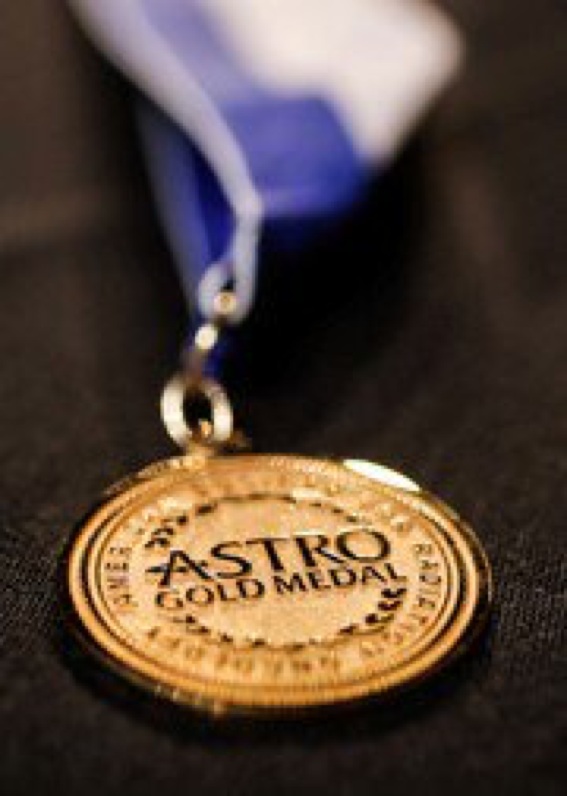 The American Society for Radiation Oncology (ASTRO) will recognize the recipients of its 2020 Gold Medal awards and other high-profile honors at the 62nd ASTRO Annual Meeting that is being held online due to the COVID-19 pandemic. Recipients will receive their awards virtually at an awards ceremony on October 27.
ASTRO Gold Medal
Bruce Haffty, MD, FASTRO, and Brian O'Sullivan, MD, FASTRO, will each be awarded the Gold Medal, the highest honor bestowed upon ASTRO members. ASTRO awards its Gold Medal annually to individuals who have made outstanding lifetime contributions in the field of radiation oncology, including achievements in clinical patient care, research, teaching and service to the profession. In the award's 44th consecutive year, Drs. Haffty and O'Sullivan join an exclusive group of 89 Gold Medalists selected over the decades from among more than 10,000 ASTRO members.
Bruce Haffty, MD, FASTRO, is Associate Vice Chancellor of Cancer Programs and leads the radiation oncology program at the Rutgers Robert Wood Johnson Medical School in New Brunswick, N.J. A former Chair of the ASTRO Board of Directors and an internationally recognized expert in breast cancer, Dr. Haffty also served in the top leadership role for the American Board of Radiology, the Association for Directors of Radiation Oncology Programs and the Radiological Society of North America. Dr. Haffty was the first radiation oncologist appointed deputy editor of the Journal of Clinical Oncology and built New Jersey's only residency program in clinical radiation oncology and medical physics. He also helps lead the state's only NCI-designated comprehensive cancer center.
Brian O'Sullivan, MD, FASTRO, a leading expert in research and treatment for sarcoma and head and neck cancers, is professor of radiation oncology and otolaryngology/head and neck surgery at the University of Toronto, Ontario Cancer Institute and Centre hospitalier de l'Université de Montréal (CHUM). A prolific researcher, Dr. O'Sullivan led clinical trials that changed standards of care for soft tissue sarcoma, tonsillar cancer and oropharyngeal cancer. An advocate of international collaboration, Dr. O'Sullivan has served as a Union for International Cancer Control volunteer and representative on the American Joint Committee on Cancer for the past three decades, and he is an Honorary Consultant at the University of Kong/Shenzhen Hospital in Shenzhen, China, where he contributes to teaching, research, and clinical care.
Read more about the 2020 ASTRO Gold Medalists in ASTROnews.
ASTRO Honorary Member
Surgical oncologist Walter Lawrence Jr., MD, director emeritus of the Virginia Commonwealth University School of Medicine Massey Cancer Center, is the 2020 ASTRO Honorary Member. This award is the highest honor that ASTRO bestows upon cancer physicians and researchers in disciplines outside of radiation oncology, radiobiology and medical physics.
Read more about Dr. Lawrence, the 2020 ASTRO Honorary Member, in ASTROnews.
Annual Meeting Abstract Awards
Twenty-five cancer researchers received 2020 ASTRO Annual Meeting Abstract Awards, which recognize the highest-rated research presented at the meeting and focus on supporting the work of residents and early career professionals. Recipients were selected from more than 3,300 abstracts submitted to the meeting.
A full list of award recipients is available online, and details about their presentations are available in the Conference Planner for the meeting.
Survivor Circle: Honoring Patients and Their Contributions
In addition to awarding achievements in the fight against cancer made by physicians, ASTRO recognizes contributions from patients through its Survivor Circle program.
The Survivor Circle Grant Program provides financial assistance to cancer support organizations in the metropolitan area where ASTRO's Annual Meeting is held. While the 2020 meeting has moved online, ASTRO will continue the tradition by awarding grants to two organizations that provide cancer support services in the Miami area, Caring Friends Cancer Support Group and Gilda's Club of South Florida. This year, a portion of all early-bird registration fees for the meeting was allocated to the Survivors Circle program to fund these grants.
Read more about the 2020 ASTRO Survivor Circle Grant Recipients in ASTROnews.
Back To Top