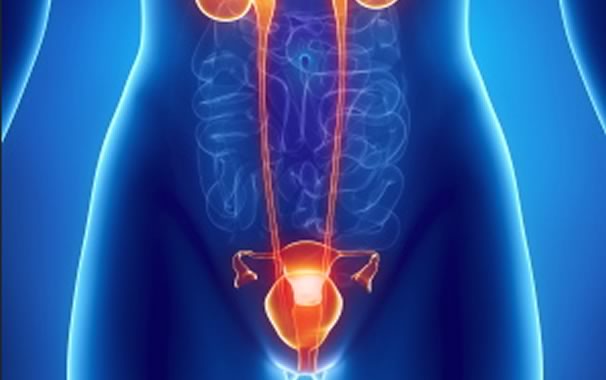 For many patients with localized muscle-invasive bladder cancer, a cure is often achievable via the long-established standard treatment of radical cystectomy and pelvic lymph node dissection, followed by adjuvant chemotherapy. But for advanced-stage patients, even with this treatment, the risk of locoregional recurrence with or without distant metastases is high. Fortunately, recent evidence suggests that adding radiation therapy after radical cystectomy can significantly reduce local recurrences compared to chemotherapy alone.
The precision targeting capabilities of intensity-modulated radiation therapy (IMRT), 3-dimensional conformal radiation therapy (3DCRT), and proton therapy also may significantly lower the severity of gastrointestinal toxicity from radiation treatments compared to older treatment approaches. For these reasons, there is new interest in using radiation therapy to treat bladder cancer patients with concurrent chemotherapy. These patients may include those who have had radical cystectomy, who elect bladder preservation surgery, and/or are not good candidates for any surgery.
Members of the International Bladder Investigator Society from Belgium, Canada, Egypt, France, India, the United Kingdom and the United States discuss the rationale for postoperative radiation in localized bladder cancer in a recent article in Bladder Cancer.1
In addition, a recent survey of U.S. radiation oncologists published in Clinical Oncology finds that nearly half of the respondents have used adjuvant radiation therapy to selectively treat bladder cancer patients.2 ClinicalTrials.gov identifies 11 active multicountry clinical trials with closed enrollment, and 13 currently recruiting patients; these trials are investigating different aspects of radiation therapy for treating bladder cancer.
Providing adjuvant radiation therapy has been a standard of care in Egypt for decades for patients with locally advanced bladder cancer. Results of a prospective clinical trial comparing cancer control of sandwich chemotherapy plus radiation therapy, with chemotherapy alone generated excitement when presented in a scientific session at the annual meeting of the American Society for Radiation Oncology (ASTRO) last fall. Principal investigator Mohamed S. Zaghoul, professor of radiation oncology at the National Cancer Institute of Cairo University, reported that the addition of radiation therapy improved local control by 27% three years following treatment, compared to patients enrolled in the chemotherapy only arm. Treatment was also well tolerated, with 7% of the 75 patients in the chemoradiotherapy arm developing late grade 3 or higher toxicities.3
A retrospective study presented at the 2016 ASTRO annual meeting using the National Cancer Data Base (NCDB) also had interesting findings. Lead author Jim Zhong, of the Department of Radiation Oncology, Winship Cancer Institute at Emory University in Atlanta, reported that patients who underwent a bladder-preserving maximal trans-urethral resection of the tumor followed by concurrent chemoradiation demonstrated similar survival outcomes compared to patients who underwent radical cystectomy with or without chemotherapy.4
The rationale for considering postoperative radiation therapy begins with the premise that because standard systemic therapy to reduce distant cancer progression is associated with a high local failure rate in patients with high-risk features at the time of surgery, there may be a potential role for adjuvant local treatments such as radiation therapy to diminish local failure, which can lead to severe morbidity and be challenging to treat. The authors discuss clinical findings from many trials, and identify several challenges facing radiation oncologists, including the need to select patients who could benefit the most due to a high risk for locoregional failure; to identify appropriate radiation therapy targets; and to predict the toxicity of treating such targets.
Brian C. Baumann, MD, a radiation oncologist at the Hospital of the University of Pennsylvania in Philadelphia, led a research project to develop a risk stratification model using pathologic stage, numbers of nodes excised and margin status. The model identified three subgroups with significantly different overall survival. It has been internally and externally validated, and may be help identify patients who would benefit from radiation therapy.
Dr. Baumann told Applied Radiation Oncology that he and his colleagues offer IMRT radiation therapy to patients who are medically or borderline medically inoperable. These patients often are elderly, and are more likely to experience significant morbidity/mortality following radical cystectomy. They also offer chemoradiotherapy to healthier patients who elect bladder-preservation surgery.
"We perform a cone-beam CT scan for our definitive bladder cases to confirm bladder filing," says Dr. Baumann. "My impression is that cone-beam CT scan has become more popular, especially as whole bladder-only radiation treatments have gained in popularity following the publication of the BC2001 clinical trial results.
"There is no universally agreed upon standard for definitive bladder cancer treatment volumes," he adds. "At our institution, we generally do not electively treat the lymph nodes in our clinical target volume. We usually treat whole bladder plus a margin to 6480 cGY with standard fractionation without a boost."
Abhishek Solanki, MD, principal investigator of the survey of U.S. radiation oncologists, said that the department of radiation oncology at the Stritch School of Medicine of Loyola University Chicago, selectively offers bladder preservation with concurrent chemoradiotherapy to patients with newly diagnosed muscle-invasive bladder cancer. In a postcystectomy setting, selective patients with particular risk features are also offered radiation therapy.
Survey respondents stated that 74% of the patients referred to them for radiation therapy (most frequently IMRT) treatment were not surgical candidates. Dr. Solanki stated that patients might benefit if more were informed about adjuvant radiation therapy, but he acknowledges that without solid data from clinical trials, this was a deterrent for referral.
"More clinical trials are needed now utilizing advanced radiation therapy techniques," he says, echoing the comments of Dr. Baumann and members of the recently formed International Bladder Investigator Society, a collaborative group that focuses on adjuvant radiation research for bladder cancer.
REFERENCES
Baumann BC, Sargos P, Eapen LJ, Efstathiou JA, et al. The rationale for post-operative radiation in localized bladder cancer. Bladder Cancer 2017;3:19-30.
Solanki AA, Martin B, Korpics M, Small C et al. Adjuvant radiotherapy use by US radiation oncologists after radical cystectomy for muscle-invasive bladder cancer. Clin Oncol. Published online February 27, 2017.
Zaghloul MS, Christodouleas JP, Smith A, et al. Adjuvant sandwich chemotherapy and radiation versus adjuvant chemotherapy alone for locally advanced bladder cancer. Int J Radiat Oncol Biol Phys. 2016(96);2-Supplement:S94.
Zhong J, Switchenko J, Jegadeesh N, et al. Comparison of outcomes in patients with muscle-invasive bladder cancer treated with radical cystectomy versus bladder-preserving chemoradiation. Int J Radiat Oncol Biol Phys. 2016(96);2-Supplement:S93-S94.
Back To Top