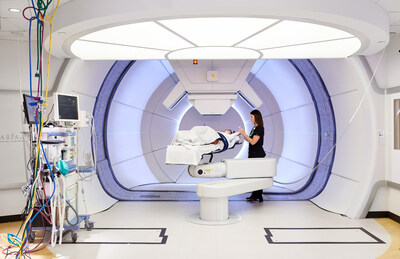 The Cincinnati Children's/University of Cincinnati Medical Center Proton Therapy Center has completed treatment of the first participant in a clinical trial of FLASH proton therapy for cancers in the bones of the chest.
FLASH is an investigational mode of radiation therapy delivery that can be administered to a patient in less than 1 second. Research in the laboratory suggests that FLASH may result in fewer side effects than standard forms of radiation delivery, and the clinical trial is testing the feasibility of FLASH to treat people with cancer.
The new study, called FAST-02, marks a significant achievement for the Proton Therapy Center in Cincinnati, which continues to lead the way in global research in the field of FLASH proton therapy.
FAST-02 follows a breakthrough last year in the world's first clinical trial of FLASH proton therapy in people, the FAST-01 study (FeAsibility Study
of FLASH Radiotherapy for the Treatment of Symptomatic Bone Metastases). That study focused on people with bone metastases in the extremities.
Now, Cincinnati Children's researchers are collaborating with University of Cincinnati researchers to establish the efficacy of ultra-high dose rate proton therapy in treating painful bone metastases in the chest. The FAST-02 study is sponsored by Varian, a Siemens Healthineers company.
Ten adults whose metastatic cancer has spread to their chest bones will participate in the research clinical trial of FLASH proton therapy.
In pre-clinical testing, FLASH proton therapy has been shown to potentially reduce side effects of radiation treatment compared to conventional radiation. However, until recently, the technology to deliver FLASH radiation for cancer patients was not available.
"Our dedicated team of researchers, clinicians, and staff are committed to advancing the field of cancer treatment and finding new ways to improve patient outcomes," said John Breneman, MD, medical director of the Cincinnati Children's/UC Medical Center Proton Therapy Center, who is principal site investigator for the FAST-02 clinical trial.
The Proton Therapy Center in Cincinnati is a state-of-the-art facility that features cutting-edge technology and equipment, allowing researchers to develop and test new treatments for a wide range of malignancies.
"This trial of an ultra-high dose rate of proton therapy is just one of our efforts to develop new and innovative cancer treatments," said John Perentesis, MD, who is research director of the Proton Therapy Center and director of oncology and cancer programs at Cincinnati Children's. "Our goal is to establish a foundation for future potential trials in brain tumors, sarcomas, lymphomas, lung cancer, and other malignancies, and we are excited about the impact this research might have on cancer care."
Anthony Mascia, PhD, who is chief physicist at the Proton Therapy Center in Cincinnati, said: "The promise of FLASH is to be able to deliver treatment at ultra-high dose rates with potentially fewer side effects. We currently are doing research studies into its efficacy, which, if confirmed, could transform radiation oncology."
The $126 million Cincinnati Children's/UC Medical Center Proton Therapy Center incorporates a $24 million, one-of-a-kind research facility, which includes integrated laboratories and a fully operational proton treatment room dedicated exclusively for research. In addition, children and adults from around the world receive treatment for more than 30 types of cancer in the two clinical proton therapy rooms.
The Proton Therapy Center on the Liberty Campus of Cincinnati Children's is one of only a few facilities in the world that can deliver FLASH proton therapy in a clinical setting. With this latest clinical trial, the medical center continues to push the boundaries of cancer treatment – and to offer hope to patients and families affected by this devastating disease.
Cincinnati Children's, the University of Cincinnati, and UC Health are separate entities that have collaborated to form the University of Cincinnati Cancer Center.
Back To Top