Radiotracer Identifies, Characterizes Renal Cell Carcinomas
By News Release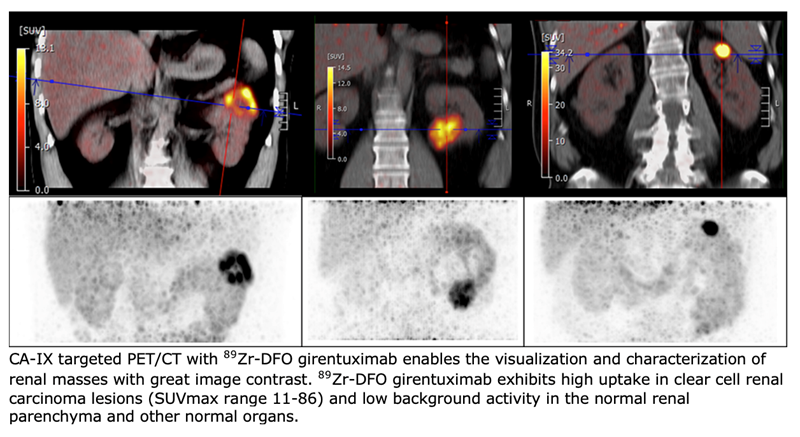 Clear cell renal cell carcinoma can be detected and differentiated from other types of kidney tumors with a new PET tracer, 89Zr-DFO-girentuximab, according to research presented at the 2023 Society of Nuclear Medicine and Molecular Imaging Annual Meeting. With its excellent specificity and sensitivity, as well as its high positive predictive value, 89Zr-DFO-girentuximab has the potential to become the new clinical standard in the identification and characterization of clear cell renal cell carcinoma.
Currently, renal masses are identified using conventional structural imaging (CT or ultrasound) or renal biopsy, but these methods are insufficient: structural imaging cannot differentiate between benign and malignant masses, and renal biopsy is invasive, subject to sampling errors, and cannot detect extrarenal disease.
"There is an unmet need for accurate, noninvasive imaging tools to aid in the diagnosis and the reliable characterization of renal masses to help risk stratify patients and guide treatment decisions," said Jeremie Calais, MD, MSc, director of the Clinical Research Program in the Ahmanson Translational Theranostics Division at the University of California–Los Angeles (UCLA).
To assess the effectiveness of 89Zr-DFO-girentuximab PET/CT in detecting renal cell carcinomas, a multicenter international ZIRCON trial was conducted. UCLA was the lead recruiting site with 34 patients recruited. Patients with an undefined renal mass and planned surgery were eligible for the study. Patients were given a single dose of 89Zr-DFO-girentuximab followed by a PET/CT scan five days later to determine the tracer uptake in the mass. Patients then underwent a nephrectomy, and tissue was collected from the renal mass to determine a final histology.
Of the 34 UCLA patients, 23 were diagnosed with clear cell renal cell carcinoma. 89Zr-DFO-girentuximab was read as positive in 20 out of the 23 clear cell renal cell carcinoma patients, and all benign and non-clear cell renal cell carcinomas were read as negative on the scan. The positive predictive value of 89Zr-DFO-girentuximab PET was 100%.
"89Zr-DFO-girentuximab imaging has the potential to be practice-changing by guiding patient management—for example, in the selection of surgical versus conservative management and in helping avoid unnecessary biopsies or surgeries and the associated risks and costs," stated Calais. "Given its excellent diagnostic performance in very small lesions, imaging with 89Zr-DFO-girentuximab also has the potential to support earlier diagnosis, which could substantially reduce patients' emotional burden, especially for those in active surveillance. Other potential clinical uses of 89Zr-DFO-girentuximab include whole-body distant staging, post-treatment surveillance, and treatment monitoring, as well as theranostic applications."
An expanded access program—in which the U.S. Food and Drug Administration works with companies to allow access to investigational therapies outside of a clinical trial to patients with serious or life-threatening illnesses for whom there are no comparable or satisfactory alternate therapies—is in the final stages of launch for 89Zr-DFO-girentuximab. If approved, the program will allow the radiopharmaceutical to be made available for use in the characterization of clear cell renal cell carcinomas previously identified with CT or MRI.
Back To Top
---
Radiotracer Identifies, Characterizes Renal Cell Carcinomas. Appl Rad Oncol.
By
News Release
|
June 30, 2023
About the Author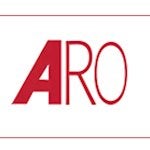 News Release