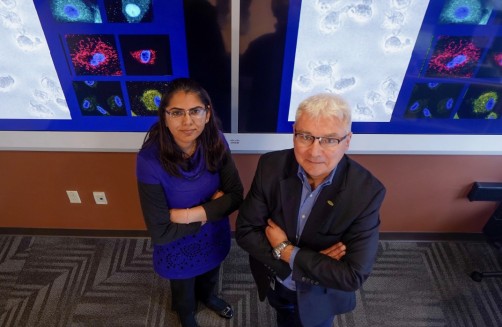 A phase 1 clinical trial conducted at Roswell Park Comprehensive Cancer Center shows that a novel treatment regimen can make immunotherapy more effective in patients with metastatic triple-negative breast cancer (mTNBC). Results of the study are reported in The Journal for ImmunoTherapy of Cancer.
Triple-negative breast cancer, which grows and spreads rapidly and is difficult to treat, represents 10-15%of all types of breast cancer and disproportionately affects Black women, women under 40 and those with a BRCA1 gene mutation. When the disease has metastasized, or spread to other parts of the body, median survival is just 17.2 months.
Of eight patients with mTNBC who enrolled in the Roswell Park study between March 2019 and July 2020, half were still alive at data cutoff in January 2023. Two of the four had stable disease at the time of reporting, while another patient has survived more than four years and has no evidence of disease.
The treatment approach evaluated in the clinical trial was based on evidence from preclinical studies showing that the most commonly used cancer immunotherapies are effective only in "hot" tumors, which have been infiltrated by cytotoxic T lymphocytes (CTLs) — immune cells capable of killing cancer cells. Unfortunately, most malignant tumors, including mTNBC, are "cold."
The Roswell Park clinical trial evaluated a strategy aimed at turning "cold" tumors into "hot" tumors with a short-term systemic chemokine modulating regimen (CKM), given prior to treatment with the immunotherapy pembrolizumab (brand name Keytruda). The team set out to determine: Could CKM attract CTLs to the tumor like a magnet, making it more susceptible to the pembrolizumab?
Principal investigator and first author Shipra Gandhi, MD, of the Department of Medicine at Roswell Park, led the study under the scientific leadership of Pawel Kalinski, MD, PhD, senior author of the paper, Chair of Immunology and Senior Vice President for Team Science at Roswell Park. With funding from the National Cancer Institute and US Department of Defense, Dr Kalinski directed earlier preclinical studies demonstrating that this CKM regimen — which combines interferon alpha (IFNα), rintatolimod (brand name Ampligen) and celecoxib (brand name Celebrex) — synergistically induces the desirable chemokines that attract antitumor effector cells including CTLs by enhancing the levels of rintatolimod receptor in tumor tissues and counteracting intratumoral suppression. Those preclinical studies further demonstrated that this combination does not affect healthy tissue and reduces the attraction of immune-suppressing regulatory T cells (Tregs) to tumor tissues.
Patients' tumors were biopsied before and immediately after CKM, before pembrolizumab was introduced, so CKM-induced changes in the tumor could be observed. Testing revealed two important effects. First, markers of CTLs and their activity levels increased, with a more than tenfold average rise in CD8+ T cells, which help the immune system work more effectively through cell interactions, and a more than 300-fold increase in the CD8+/FoxP3 ratio — a predictor of disease-free survival in many types of cancer. No changes were seen in healthy tissue.
"CD8+ T cells are an important prognostic and predictive biomarker for clinical outcomes in breast cancer, and our findings showing that CKM can modulate the tumor microenvironment are intriguing," says Dr Gandhi. "We expect that this work will pave the way for future studies to further understand and improve responses to checkpoint inhibitors in patients with this notoriously difficult-to-treat form of breast cancer."
Effects of the CKM regimen don't last long — essentially, it serves to prime the immune system with an influx of CTLs — so the Roswell Park team concludes that it should be administered along with a checkpoint blockade or another type of immunotherapy to achieve the best outcomes. Testing showed that six systemic doses of CKM over two weeks was enough to beneficially alter the immunologic environment.
The regimen resulted in upregulation of specific chemokines within the tumor (CCL5, CXCL9 and CXCL10) — the "magnets" that attract CTLs — but did not increase levels of chemokines that attract immunosuppressive cells, such as CXCL12 and CCL22.
Because the CKM regimen was delivered systemically, it affected distant metastatic tumors, although —as with most types of immunotherapy — the effects were not immediately evident.
"This approach can make it possible to convert local tumor microenvironments of multiple 'cold' tumors into 'hot' tumors with an easy-to-apply, short-term systemic treatment," says Dr Kalinski.
CKM also may hold promise for treating other types of cancer, including preclinical states — when the cancer can be detected through screening, but before symptoms have begun — and viral infections. Previous Roswell Park studies have shown that adding CKM to intraperitoneal chemotherapy in patients with ovarian cancer can increase local CTL-attracting chemokines and CTL markers. Systemic CKM has been given safely in combination with dendritic cell (DC) vaccines following surgery and chemotherapy in patients with peritoneal carcinomatosis, although the immunologic effects of systemic CKM have not yet been evaluated.
Dr Kalinski notes, "We expect soon to combine this approach with different forms of checkpoint blockade, vaccines and adoptive T-cell transfer, to enhance the penetration and clinical effectiveness of activated effector CTLs into the tumor microenvironment of solid tumors — and potentially into lymph nodes or the bone marrow of patients with hematologic malignancies, such as leukemia, lymphoma and myeloma."
Back To Top