Investigational PET Agent Detects Distant Metastases in Newly Diagnosed Prostate Cancer
By News Release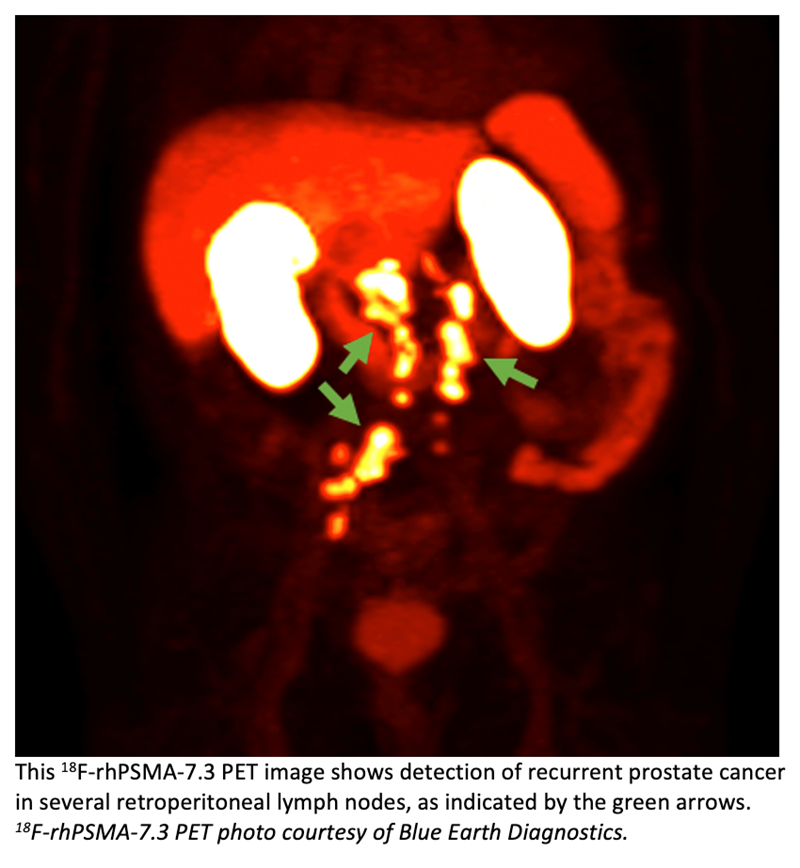 Blue Earth Diagnostics today announced additional results from its Phase 3 LIGHTHOUSE trial that evaluated the diagnostic performance and safety of 18F-rhPSMA-7.3 in newly diagnosed prostate cancer. 18F-rhPSMA-7.3 is an investigational high affinity radiohybrid (rh) Prostate-Specific Membrane Antigen-targeted PET imaging agent. The results were reported in a presentation at the 2023 ASCO Genitourinary Cancers Symposium (ASCO GU), held February 16 -18, in San Francisco, Calif.
"Up to 25% of patients with primary prostate cancer may have detectable regional pelvic lymph node metastases, which are correlated with a risk for recurrence and associated overall survival," said Brian F. Chapin, MD, Associate Professor, Department of Urology, Division of Surgery, The University of Texas MD Anderson Cancer Center, and Coordinating Investigator of the LIGHTHOUSE study. "Effective staging in primary disease − determining its presence and whether it may have metastasized − is critical in establishing optimal clinical management strategies. Pelvic lymph node dissection (PLND), or pelvic lymphadenectomy, is considered the gold standard in assessing pelvic node lesions, but its use is limited to the planned surgical area. Conventional imaging techniques such as CT and MRI are limited in the information they may provide. An ideal staging technique for detecting metastatic prostate cancer should include both pelvic nodes as well as more distant soft tissue and skeletal findings. The LIGHTHOUSE study looked at unfavorable intermediate, high and very high risk patients who were scheduled for radical prostatectomy plus PLND prior to 18F-rhPSMA-7.3 PET. Results were encouraging and showed that between 9% - 13% (28 and 42/314, respectively), across the readers, of patients for whom conventional imaging was negative, actually had distant (M1) metastatic lesions that were visible on 18F-rhPSMA-7.3 PET. Thus, 18F-rhPSMA-7.3 PET provided clinically valuable information prior to surgery that would likely result in management changes for these patients."
"We are pleased to share these results from the Phase 3 LIGHTHOUSE study with the clinical community at ASCO GU 2023, as they are included in our New Drug Application for 18F-rhPSMA-7.3 PET imaging, which is currently under review by the U.S. Food and Drug Administration," said David E. Gauden, D.Phil., Chief Executive Officer of Blue Earth Diagnostics. "18F-rhPSMA-7.3 represents a new class of PSMA-targeted PET radiopharmaceuticals based on novel radiohybrid technology PSMA technology, which offers potential theranostic utility in both diagnostic PET imaging and therapy. Early studies with 18F-rhPSMA-7.3 potentially show a high binding affinity for PSMA, and biodistribution data suggest the potential for low bladder activity. We believe that these attributes will make it a valuable diagnostic tool that is radiolabeled with 18F for high image quality and readily available patient access."
The findings presented at ASCO GU 2023 included assessment of the Verified Detection Rate (VDR) of distant metastatic (M1) lesions by 18F-rhPSMA-7.3 PET imaging. VDR was the proportion of patients with M1 lesions identified by blinded image evaluation and also subsequently confirmed as True Positive (TP) by biopsy (used in ~15% of M1 positive cases) or follow-up conventional imaging (used in ~85% of M1 positive cases). Findings were based on individual read results from 3 blinded, independent PET readers. Men with treatment-naïve, unfavorable intermediate to very high-risk prostate cancer who were scheduled to undergo radical prostatectomy and PLND underwent PET imaging after administration of 18F-rhPSMA-7.3. Onsite readers interpreted the images before submission for blinded interpretation and evaluation by the central readers.
Of the 335 men analyzed (median [range] PSA, 8.89 [1.15-120] ng/mL), 16-28% (53-93) had M1 lesions across the 3 readers. In total, 10-15% (35-49) had verified M1 lesions. By region, verified M1 lesions were most common in bone, ranging from 6.0-11% across readers. Similar data were shown among a subgroup who had negative baseline conventional imaging. In these 314 patients, the VDR ranged from 9-13% across readers, with bone showing the highest regional VDR, ranging from 5-9%.
The LIGHTHOUSE Phase 3 clinical trial (NCT04186819) was a prospective, Phase 3, multi-center, single-arm, imaging study conducted in the United States and Europe to evaluate the safety and diagnostic performance of 18F-rhPSMA-7.3 PET in men with newly diagnosed prostate cancer. Results for the co-primary endpoints of efficacy and safety for the LIGHTHOUSE trial were previously presented at the 23rd Annual Scientific Meeting in Urologic Oncology (SUO) in December 2022.
The most recent findings, which reflect an analysis of additional LIGHTHOUSE study endpoints, "Detection of true positive M1 lesions by 18F-rhPSMA-7.3 PET in newly diagnosed prostate cancer: Results from the phase 3 prospective LIGHTHOUSE study," were presented at ASCO GU 2023 on February 16, 2023, by Brian F. Chapin, MD, Associate Professor, Department of Urology, Division of Surgery, The University of Texas MD Anderson Cancer Center, on behalf of Bridget F. Koontz, MD, Duke University Medical Center (at the time of the study), for the LIGHTHOUSE Study Group.
Back To Top
---
Investigational PET Agent Detects Distant Metastases in Newly Diagnosed Prostate Cancer. Appl Rad Oncol.
By
News Release
|
February 16, 2023
About the Author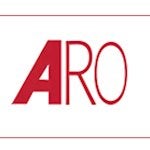 News Release