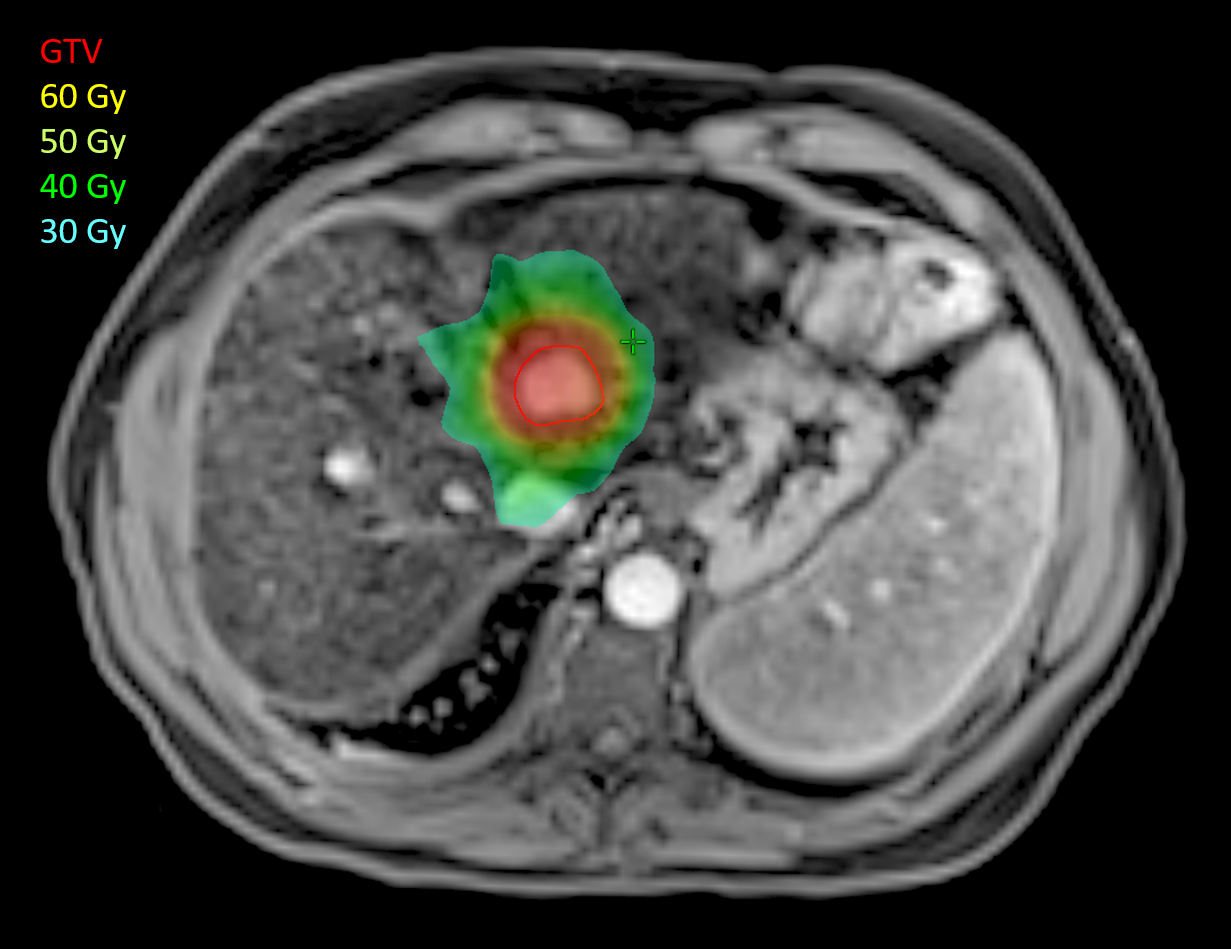 With the increasing availability of stereotactic body radiation therapy (SBRT), irradiation is being incorporated into the treatment plans of patients with hepatocellular carcinoma (HCC) for whom surgical resection is not feasible. HCC is the second leading cause of cancer-related deaths worldwide. SBRT allows for the precise and highly accurate delivery of high doses of radiation to a target in a small number of fractions.
Implementing a liver cancer treatment program using SBRT is the subject of an article in Chinese Clinical Oncology by radiation oncologists Stewart Gaede, MD, and Michael I. Lock, MD, from the London Regional Cancer Program of the University of Western Ontario in Canada. They advise that a successful liver SBRT program considers appropriate patient selection, precise and accurate diagnostic imaging, advanced treatment planning optimization, image guidance, respiratory motion management and, of course, precise radiation dose delivery.1
The authors make recommendations about respiratory motion management, simulation imaging, target volume delineation, treatment planning, and image guidance. Noting that motion-encompassing methods are often discouraged in liver SBRT because they significantly increase dose to the normal liver, they offer advice on the use of internal target volume (ITV) for breath-hold and tumor immobilization, respiratory gating, and tumor tracking.
In their discussion regarding radiation dose, the authors note a large variation in dose used in recent studies. They report that dose selection is converging on 48 Gy in 3 fractions, or 40 Gy in 5 fractions for patients with a Child-Pugh (CP) score worse than B7 for liver function. For patients with liver metastases, an escalation to 60 Gy in 5 fractions may be appropriate.1
Another option is to use a radiobiologically guided dose selection algorithm. Normal tissue complication probability (NTCP) models enable providers to individually select the maximum dose possible for each patient with specific toxicity risk levels, and this is what the authors use at their treatment facility. The NTCP model takes into account the magnitude of volume effect for the liver based on serial or parallel organ classification, the steepness of the dose-response curve for a specific partial volume, and the tolerance dose for the whole liver that causes 50% complication. If recommendations of differential dosing based on a stepwise dose escalation program developed at Indiana University in Indianapolis are used (constraining 700 cc of normal liver to receive < 15 Gy), the chance of a radiation-induced liver disease toxicity is extremely unlikely, state the authors.2
Predicting radiation-induced liver disease after SBRT
Radiation-induced liver disease (RILD) is a serious toxicity that patients can develop after
any type of radiation treatment for HCC. A research team from Korea conducted a study of 117 patients who underwent SBRT to identify factors that could predict RILD. They determined that CP score is a significant predictive factor, and that patients with a CP score of 7 or less were better able to tolerate RILD than patients with a higher CP score.3
The patients had received treatment at the Soon Chun Hyang University Cheonan Hospital in Cheonan over four years starting in 2011. One-fourth of these patients developed RILD. The patients had follow-up appointments 1 month after completing SBRT treatment and every 3 months thereafter.
The authors defined RILD as elevated liver transaminases more than 5 times the upper normal limit, or worsening of CP score by 2 or more within 90 days after completion of SBRT treatment. RILD is defined as "classic" (subacute hepatic toxicity that presents with anicteric ascites, hepatomegaly, and elevated alkaline phosphatase levels) and "nonclassic" (elevated liver transaminases more than 5 times the upper normal limit or worsening of CP score by 2 or more). For their study, the authors used the "nonclassic" RILD criteria because this is found in patients with chronic liver disease.
Twenty-nine patients developed "nonclassic" RILD within a median 2-year period, whereas no patients developed "classic" RILD. Of all the variables studied — dose-volume parameters, gender, age, CP score, presence of hepatitis B virus (HBV), alcohol use, aspartate aminotransferase and alanine aminotransferese, only pretreatment CP score was a significant predictive factor. CP score was an independent prognostic factor of overall survival as well, according to study findings published in the Korean Journal of Internal Medicine.3
Radiotherapy combined with personalized peptide vaccination eliminates RILD in a clinical trial
A new treatment for patients with unresectable advanced HCC combining radiation therapy with personalized peptide vaccination (PPV) has been developed and tested in a phase I clinical study conducted in China. Three of the 9 participating patients responded to the treatment, and the decision control rate was 66%. The treatment was safe, well-tolerated, and no patient experienced liver or kidney toxicities.4
A 15-member multispecialty team of physicians at the Medical School of Nanjing University and its Clinical Cancer Institute in Jiangsu Province developed the novel treatment. It combines radiation therapy with PPV in tumor immunotherapy. The researchers said it takes full advantages of the immune modulation of radiation therapy, promotes tumor cells to release antigens, and results in a more effective therapeutic strategy with regard to local and systematic control. PPV is a novel immunotherapeutic approach based on a specific pool of peptides. It increases the possibility of avoiding both tumor heterogeneity and immunological diversity. The vaccine contains "personalized" antigens with pre-existing immunity, which can trigger antigen-specific memory T cells to produce rapid and strong secondary immune response. It also activates cytoxic T lymphocytes (CTL), whose immunotherapy capabilities have been determined to play an important role in preventing HCC recurrence and metastasis.
The patients received conventional radiation therapy treatments of 10 fractions delivering 2.5 Gy to 5 Gy each, except for patients with peritoneal metastases receiving 2 fractions of 0.5 Gy. This was followed by an immunotherapy regimen consisting of 1-3 cycles of PPV peptides, dentric cells (DC), and CTL.
Lead author Je Shen, MD, and colleagues wrote that "undoubtedly, PPV-DC-CTL and radiation therapy showed synergetic effects, especially in 2 of the patients, as the tumors both within and out of the radiation field decreased in size or remained stable after treatment. Other advantages of this combined treatment were the avoidance of chemotherapy-induced side effects and overcoming the limitation of radiation therapy for extensive metastases."4
REFERENCES
Gaede S, Lock MI. Advances in external beam stereotactic body radiotherapy: principle concerns in implementing a liver radiation program. Chin Clin Oncol. 2017;6(Suppl 2):S13.
Gosalia AJ, Martin P, Jones PD. Advances and future directions in the treatment of hepatocellular carcinoma. Gastroenterol Hepatol (NY). 2017;13(7):398-410.
Jun BG, Kim YD, Cheon GJ, et al. Clinical significance of radiation-induced liver disease after stereotactic body radiation therapy for hepatocellular carcinoma. Published online August 28, 2017. doi: 10.3904/kjim.2016.412. Accessed Oct. 26, 2017.
Shen J, Wang L-F, Zou Z-Y, et al. Phase 1 clinical study of personalized peptide vaccination combined with radiotherapy for advanced hepatocellular carcinoma. World J Gastroenterol. 23;29:5395-5404.
Back To Top