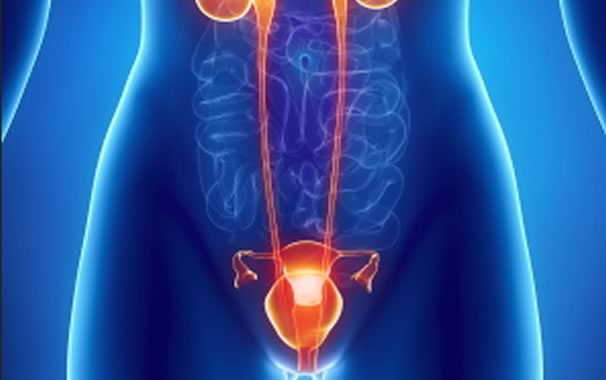 Bladder cancer is on the rise throughout the world, attributed to increasing life expectancy and the resultant growth of elderly populations. Predominantly a "senior citizen" disease, bladder cancer most often affects people 70 years and older.
Muscle-invasive bladder cancer is associated with poor prognosis, especially for the frail elderly. Radical cystectomy with pelvic node dissection is not feasible for many of these patients. Bladder preservation that combines transurethral resection of the bladder tumor with radiation therapy, and potentially radiosensitization with chemotherapy, is producing near comparable outcomes.1 For patients who cannot tolerate chemotherapy treatments, newly published research is revealing that hypofractionated volumetric-modulated arc therapy (VMAT) and image-guided targeted intensity-modulated radiation therapy (IMRT) using lipiodol markers are producing encouraging treatment outcomes.
Radiosensitization is a standard-of-care component for patients receiving bladder preservation treatment. A multi-institutional research team in the United Kingdom reported in the December 2018 issue of Radiotherapy and Oncology that radiosensitization is safe and effective for otherwise healthy elderly patients.2 The study included 167 patients with grade 3 muscle-invasive bladder cancer, 61 of whom were 75 to 89 years old. After undergoing transurethral resection, all patients were prescribed 3 to 6 cycles of platinum-based neoadjuvant chemotherapy followed by radiation therapy.
Co-author Ananya Choudhury, PhD, a consultant in the Department of Clinical Oncology at the Christie NHS Foundation Trust in Manchester, and co-researchers, reported that while a much lower percentage of the elderly patients did not complete the radiosensitization regimen, radiation therapy compliance was comparable with the younger patients, at 93% compared to 97%, respectively. Based on their analysis, the authors recommend that if an elderly patient is fit enough to commence the 4 cycles of chemotherapy, it should be prescribed, because a percentage of these patients may have a more tolerable level of genitourinary or gastrointestinal toxicities and would be able to complete the treatment.
High-precision image-guided IMRT using lipiodol markers
Urologists and radiation oncologists at Catharina Hospital in Eindhoven, The Netherlands, reported in the February 2019 issue of European Urology Oncology that elderly patients with muscle-invasive bladder cancer undergoing specialized targeted radiation therapy as the first-line treatment following transurethral resection had very positive outcomes.3 The 44 patients in the study had a median age of 81 at the start of treatment for grade 2 (89%), grade 3 (9%), and grade 4 (2%) disease.
These physicians had developed and validated a treatment plan that included the acquisition of 2 computed tomography (CT) scans after several drops of lipiodol had been injected in the submucosa around the tumor, with one case involving a full bladder and the other a voided bladder. The authors explained that fluoroscopic guidance is needed to inject the correct amount of lipiodol to avoid overdosing and excessive scattering on CT images, and that it is essential to use lipiodol for their technique. Administration of the lipiodol takes approximately 10 to 20 minutes in the outpatient setting. Lipiodol guarantees correct selection of the gross tumor volume (GTV) boost area owing to the poor visibility of the tumor site on the planning CT and the cone-beam CT scans after radical transurethral tumor resection.
The boost volume of the GTV and the low-risk bladder volume were delineated. Six concomitant boost IMRT plans with increasing bladder volumes were created using an interpolation tool, and 6 concomitant boost IMRT plans with increasing bladder volumes were generated. Alexander J.W. Beulens, MD, of Catharina's Department of Urology, told Applied Radiation Oncology that workup of the plan is 2 to 3 hours, and requires specific training of the radiation oncologist.
The radiation therapy treatment prescribed was a homogenous dose of 23 fractions of 2.6 Gy at the planning target volume (PTV) boost and 2.0 Gy for the remaining PTVlow. For each fraction, a cone-beam CT was acquired, and based on the amount of bladder filling, the best fitting bladder contours and corresponding GTV and IMRT plans were selected. The authors wrote that the lipiodol markers were registered using the corresponding GTV contours, and that the corresponding 95%-isodose surface covered the entire bladder. Then the corresponding treatment plan was irradiated after an online setup correction was applied based on the registration.
The researchers reported that 6 irradiation plans were used for 31 patients, fewer for the remainder. All patients tolerated their treatments, with few acute or late toxicities. At 3-year follow-up, the local recurrence rate was 11.4, and 35% developed metastases. Overall survival was 49%, with only 9 patients dying from bladder cancer. Most deaths were attributed to cardiovascular failure.
The authors concluded that the lipiodol demarcation and plan-of-the-day integrated boost technique is a viable, curative first line treatment option for elderly patients with limited-volume T2-T4N0M0 grade 2-3 muscle-invasive bladder cancer who are unsuitable for surgery.
Accelerated hypofractionated radiation therapy only for frail patients
Image-guided accelerated hypofractionated radiation therapy offers another option providing good local control to very elderly patients, according to a study of 17 patients with a median age of 87, published in the February 2019 issue of the American Journal of Clinical Oncology.4
Radiation oncologists and urologists at Chaim Sheba Medical Center https://www.shebaonline.org/ in Tel Hashomer, Israel, prescribed 45 Gy in 15 fractions of radiation therapy after the patients underwent partial or total surgical resection of the bladder tumor, which they felt was a moderate hypofractionization regimen delivering a dose of 3 Gy per fraction that could be better tolerated by their patients than a higher fraction dose. Most patients had T2N0 disease (76%), followed by T3N0 (12%), and 6% each for T4aN0 and T1N0 disease. None had lymph node involvement or metastases, but the majority did have "old age" comorbidities.
The treatment lasted 3 consecutive weeks, with 3-dimensional conformal radiation therapy administered to the first 8 patients, and VMAT for the remainder. Sixteen patients completed the treatment.
Twelve patients experienced acute grade 1 to 2 urinary toxicity, and 4 patients grade 3. Almost half of the patients also experienced grade 1 to gastrointestinal (GI) toxicity, and 1 patient experienced grade 3 acute GI toxicity that required hospitalization. None of the patients who had VMAT treatment experienced diarrhea. Only 1 patient experienced a late grade 3 toxicity (urinary incontinence).
Chaim Sheba's Zvi Symon, MD, principal investigator of the study, reported that six patients developed a local recurrence and two developed distant metastases. A total of 15 patients died during the median 63 months of follow-up, only 30% of whom had bladder cancer-related deaths.
Although the study involves a small patient cohort, it addresses treatment of elderly frail patients with comorbidities. A moderately accelerated hypofractionated radiation therapy regimen "reduced the overall treatment time of curative attempted radiation therapy yet delivered adequate dose while reducing the effects of accelerated tumor repopulation and preceded the onset of debilitating fatigue," wrote the authors.
REFERENCES
Vashistha V, Wang H, Mazzone A, et al. Radical cystectomy compared to combined modality treatment for muscle-invasive bladder cancer: a systematic review and meta-analysis. Int J Radiat Oncol Biol Phy. 2017;97(5):1002-1020.
Christodoulou M, Reeves KJ, Hodgson C, et al. Outcomes of radiosensitisation in elderly patients with advanced bladder cancer. Radiother Oncol. 2018;129(3):499-506.
Beulens AJW, van der Toorn P-P, de Wildt MJ, et al. High-precision bladder cancer irradiation in the elderly: clinical results for a plan-of-the-day integrated boost technique with image guidance using lipiodol markers. Eur Urol Oncol. 2019;2(1):39-46.
Hammer L, Laufer M, Dotan Z, et al. Accelerated hypofractionated radiation therapy for elderly frail bladder cancer patients unfit for surgery or chemotherapy. Am J Clin Oncol. 2019;42(2):179-183.
Back To Top