Proton therapy for patients with left-sided breast cancer: A primer
By Kristin Rakoczy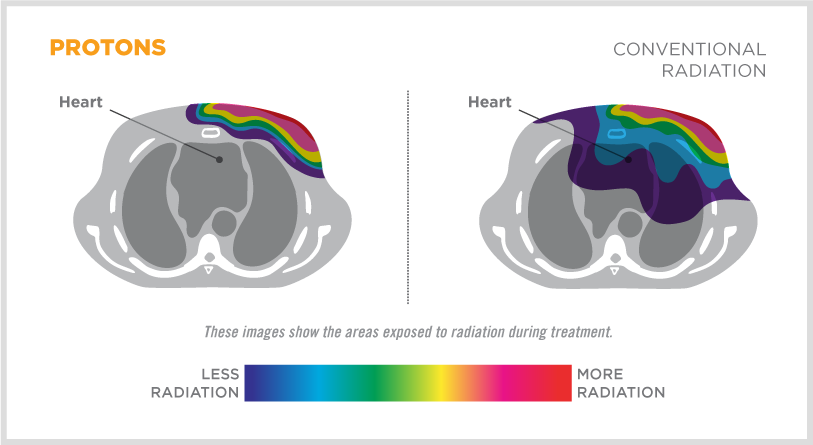 As the most commonly diagnosed cancer in women across the United States, breast cancer poses a looming threat for many people. One in eight women will be diagnosed with breast cancer in their lifetime.
In fact, the National Breast Cancer Foundation (NBCF), estimates that each year more than 246,000 women will be diagnosed with this disease. That's one woman diagnosed with breast cancer every two minutes in the United States.
It is not a merciful disease. According to the NBCF, breast cancer is the second leading cause of cancer-related death in women—one woman will die every 13 minutes due to complications of this silent killer.
Fortunately, many treatment methods can reduce the threat of breast cancer. Depending on a patient's condition, a doctor will recommend chemotherapy, radiation, surgery, or a combination of treatments. But for women diagnosed with left-sided breast cancer, there's a particular treatment issue they must face: their heart.
In fact, research published in the JAMA Internal Medicine estimates that women who have suffered from breast cancer radiation suffer from a 0.5% to 3.5% higher risk of a heart attack or other heart complications.1 This is an unfortunate side effect of traditional radiation; it is incredibly strong and can endanger healthy cells even though the real target is a cancerous tumor.
What's worse is there is no way to immediately tell if the heart has been affected by radiation therapy, as many health complications don't occur until much later. A 2013 study in the New England Journal of Medicine found that these harmful effects appeared in breast cancer patients almost five years after their first radiation treatment. This means patients may be living with serious undetected health issues for at least a half of a decade before they experience symptoms or seek treatment.2 That's where proton therapy can help.
Proton therapy is a specialized form of treatment used to combat cancer in a different way than traditional radiation. It is applied via external beam and uses energy from positively charged particles known as protons. Many doctors choose proton therapy for breast cancer because it delivers radiation directly to the tumor or specific area, and will not touch or harm the surrounding healthy tissue.
The way this is simple. The best way to understand treatment method works it is to compare it to a traditional radiation treatment. During traditional radiation treatment, the photons deposit radiation into the healthy tissue on their way to the tumor, and even continue to spread radiation beyond the tumor. This results in the tumor receiving a high dose of radiation, and the surrounding tissues, bone, and muscle getting a smaller, albeit dangerous, dose. But with proton therapy, the majority of the protons focus on targeting just the tumor, and the areas around it are not nearly as affected.
Proton therapy set-up procedures are similar to traditional radiation treatment. First, the patient will have a low dose x-ray to identify the area of the tumor, and then will be placed in front of the proton machine. Patients are asked to stay still while the proton machine moves around them and delivers proton beams to the correct location. The National Association of Proton Therapy explains this as a painless procedure with minimal side effects. A typical treatment schedule can last from four to eight weeks, Monday through Friday.
Many studies show the benefits of proton therapy for left-sided breast cancer. In particular, a 2014 study by the Loma Linda University in California found that of their 100 test subjects with left-sided breast cancer who underwent treatment with proton therapy, the recurrence-free survival rate in five years was 97%.3
As this suggests, targeted proton therapy can be especially beneficial for women with left-sided breast cancer. Proton therapy can change how the world sees breast cancer treatment, and it can help breast cancer survivors live healthy lives free of complications associated with traditional radiation therapy.
REFERENCES
Brenner DJ, SHuryak I, Jozsef G. Risk and risk reduction of major coronary events associated with contemporary breast radiotherapy. JAMA Intern Med. 2014;174(1):158-160.
Darby SC, Ewertz M, McGale P, et al. Risk of ischemic heart disease in women after radiotherapy for breast cancer. N Engl J Med. 2013;368:987-999.
Bush DA, Do S, Lum S, et al. Partial breast radiation therapy with proton beam: 5-year results with cosmetic outcomes. Int J Radiat Oncol Biol Phys. 2014;90(3):501-505.
Kristin Rakoczy is the marketing and PR manager for Provision Healthcare in Knoxville, Tenn.
Back To Top
---
Proton therapy for patients with left-sided breast cancer: A primer. Appl Rad Oncol.