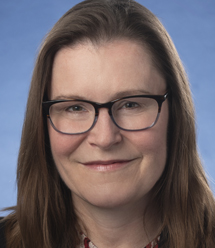 The members of the American Society for Radiation Oncology (ASTRO) have elected four new officers to ASTRO's Board of Directors. Laura Dawson, MD, FASTRO, (pictured left) will begin her term as President-elect in September during ASTRO's 61st Annual Meeting in Chicago, alongside Neha Vapiwala, MD, the new Secretary/Treasurer-elect; Constantine Mantz, MD, the new Health Policy Council Vice-chair; and Brian Marples, PhD, the new Science Council Vice-chair.
"I am honored to be elected as ASTRO's President-elect. Radiation oncology is a highly effective intervention that most cancer patients benefit from at some point during the course of their disease. Unfortunately, not all patients have access to radiation therapy, and there is a need for improved public awareness about its benefits," said Dr. Dawson.
In her tenure as President-elect and eventual Chair of ASTRO, Dr. Dawson also plans to address key challenges facing both radiation oncology and the larger house of medicine, including physician burnout, restrictive prior authorization practices and workforce diversity.
Dr. Dawson leads a multi-disciplinary team of cancer specialists in upper gastrointestinal (GI) cancers at the Princess Margaret Cancer Centre in Toronto and is a professor of radiation oncology at the University of Toronto. She also directs the palliative radiation oncology program and has led numerous phase I, II and III trials, including trials that focused on the use of personalized stereotactic body radiation therapy (SBRT) for patients with liver cancer, who historically were not candidates for radiation therapy.
Dr. Dawson has an extensive record of service to ASTRO and the field. She previously served on the ASTRO Board as Chair of the Education Council. A leading expert in GI cancers, she recently chaired the steering committee of the Gastrointestinal Cancers Symposium co-sponsored by ASTRO. Dr. Dawson also has participated in the NRG's GI steering and translational research committees and the National Cancer Institute (NCI)/National Institute of Health (NIH) hepatobiliary task force for more than a decade.
Dr. Neha Vapiwala (Secretary/Treasurer-elect) is an associate professor and vice-chair of education in the department of radiation oncology and dean of admissions at the Perelman School of Medicine at the University of Pennsylvania. A nationally-recognized expert in genitourinary (GU) cancers, Dr. Vapiwala serves on the National Cancer Institute's Prostate Cancer Task Force and has led multiple large research projects covering a range of topics in radiation oncology. She also serves on the editorial board of JAMA Oncology and the National Comprehensive Cancer Network (NCCN) panel on early detection of prostate cancer.
Dr. Vapiwala has written extensively on issues affecting medical education and training from the undergraduate through professional levels. She is a member of ASTRO's workforce, education and international education committees, as well as the newly elected Chair of the Accreditation Council for Graduate Medical Education's (ACGME) Radiation Oncology Residency Review Committee. Dr. Vapiwala also recently served as President of the Association of Directors of Radiation Oncology Programs (ADROP).
In her tenure on the ASTRO Board, Dr. Vapiwala plans to help the organization address increasing challenges in health care economics, the emergence of artificial intelligence and its role in radiation oncology, and renewed questions about the science of cancer and radiation therapy in an age of rapidly advancing technologies.
Dr. Constantine (Connie) Mantz (Health Policy Council Vice-chair) is Chief Policy Officer and a radiation oncologist at 21st Century Oncology in Ft. Meyers, Florida, where he is involved in key administrative projects related to payer contracting, revenue cycle management, business intelligence and compliance. A former Chair of ASTRO's Payer Relations Committee, Dr. Mantz has served on each of the organization's health policy committees. In his new Board role, Dr. Mantz will work to address payment reform issues, including the implementation of an alternative payment model (APM) for radiation oncology and ASTRO's ongoing efforts to rein in restrictive prior authorization practices by health insurers.
Dr. Brian Marples (Science Council Vice-chair) is a research professor and director of radiobiology in the department of radiation oncology at the University of Miami Miller School of Medicine. Dr. Marples is the senior biology editor for the Society's flagship journal, the International Journal of Radiation Oncology • Biology • Physics, and has led or served on several of ASTRO's science and education committees. As a Board member, Dr. Marples will continue his focus on engaging ASTRO members, other leading medical societies and the public about innovations in radiation oncology, such as new technologies and treatments that combine radiation with immunotherapy.
Dr. Dawson will serve a one-year term as President-elect, followed by a single-year term as President, then one as Chair of the ASTRO Board. Dr. Vapiwala will serve a one-year term as Secretary/Treasurer-elect followed by a three-year term as Secretary/Treasurer. Dr. Mantz and Dr. Marples will serve two-year terms as Vice-chair, followed by two-year terms as Chairs of their respective Councils.
Back To Top