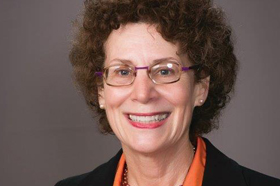 The members of the American Society for Radiation Oncology (ASTRO) have elected four new officers to ASTRO's Board of Directors. Geraldine Jacobson, MD, MPH, MBA, FASTRO, (pictured left) will begin her term as President-elect in October during ASTRO's 62nd Annual Meeting, alongside Gopal K. Bajaj, MD, MBA, the new Government Relations Council Vice-chair; Beth Erickson, MD, FASTRO, the new Education Council Vice-chair; and Eric Ford, PhD, the new Clinical Affairs and Quality Council Vice-chair.
In her tenure as President-elect and eventual Chair of ASTRO, Dr. Jacobson will draw on her advanced education in public health and business to address priority areas including diversity and racial justice within the oncology workforce, the impact of COVID-19 on cancer care, and patient health equity.
"I am honored to be chosen as ASTRO's President-elect at this momentous time. While we are in an age of unprecedented scientific discovery and progress in radiation oncology, there are also enormous challenges facing our specialty and our world. I am committed to listening to, and learning from, all of our members to identify thoughtful steps to foster diversity and inclusion, advance clinical care, support research and innovation, and influence health policy decisions. As ASTRO evolves to include more perspectives, I believe that working together will ensure that our specialty remains strong and provides our patients with the best possible care," said Dr. Jacobson.
Dr. Jacobson is the founding Chair and a professor of radiation oncology at West Virginia University, as well as the Physician in Chief for Radiation Oncology for the West Virginia University Hospital System. An expert in radiation therapy for breast and gynecologic cancers, she has experience treating patients in rural, urban and academic settings. Before joining WVU, Dr. Jacobson helped lead radiation oncology and residency programs at the University of Iowa.
Dr. Jacobson has an extensive record of service to ASTRO and the oncology field. She currently serves on the Board of Directors as Secretary/Treasurer and is a former Chair of the ASTRO Government Relations Council. She also mentors radiation oncologists via virtual tumor boards with international clinics through Project ECHO (Extension for Community Healthcare Outcomes) and contributes to national clinical trials as a member of the NRG Oncology breast cancer working group.
Dr. Jacobson will serve a one-year term as President-elect, followed by single-year terms as President, Chair and Immediate Past Chair of the ASTRO Board.
Dr. Gopal Bajaj (Government Relations Council Vice-chair) is Chairman of the department of advanced radiation oncology and proton therapy at The Inova Schar Cancer Institute in Fairfax, Va. He also holds faculty appointments with the University of Maryland Medical System and Virginia Commonwealth University. Dr. Bajaj contributes broadly to ASTRO's advocacy and quality initiatives, including service on committees for government relations and practice accreditation. In his new Board role, he will work with government agencies and policy stakeholders on key issues including an alternative payment model (APM) for radiation oncology, emergency relief funding to support radiation oncology clinics facing financial hardship from the COVID-19 pandemic, and the use of telemedicine as a means to improve patient access and quality of care. "Ultimately, by serving the needs of our members, we serve the needs of our patients," said Dr. Bajaj. "I look forward to advancing priority advocacy efforts such as expanding access to care, eliminating the unnecessary burden of prior authorization and protecting research funding to improve patient outcomes."
Dr. Beth Erickson (Education Council Vice-chair) is Chief of Brachytherapy Services and a professor of radiation oncology at the Medical College of Wisconsin in Milwaukee. She treats patients at Froedtert & the Medical College of Wisconsin Clinical Cancer Center. Dr. Erickson has extensive experience teaching and planning educational meetings with ASTRO and the American Brachytherapy Society, and she currently co-chairs ASTRO's continuing medical education committee as well as its Annual Refresher Course program. As a Board member, Dr. Erickson will focus on the wide range of educational opportunities ASTRO provides, including its Annual Meeting and the ASTRO Academy, which houses webinars and other online medical education for providers. "Scientific and clinical data must be exchanged in a timely, learner-specific method in an era where travel and financial resources may be limited. As information expands, particularly relative to personalized and precision medicine, I hope to assist ASTRO in finding new ways to connect a broad and diverse learning community," said Dr. Erickson.
Dr. Eric Ford (Clinical Affairs and Quality Council Vice-chair) is Interim Director, Vice Chair and a professor of physics at the University of Washington in Seattle. He has published extensively and led multiple federal grants focused on quality and safety in radiobiology and oncology. He helped develop the RO-ILS: Radiation Oncology Incident Learning System®, one of ASTRO's signature patient safety initiatives, and he currently directs the patient safety track of ASTRO's Annual Meeting. As a Board member, Dr. Ford will continue to support quality and safety initiatives including clinical guidelines and practice accreditation, while also helping radiation therapy clinics navigate new challenges introduced by the novel coronavirus. "ASTRO will have a key role to play in the years ahead as the health care system navigates the inevitable aftershocks of COVID-19 and other changes in health care," said Dr. Ford. "Concrete steps will be necessary, such as the development of thoughtful, evidence-based quality metrics to maximize the quality and safety of the care we deliver to patients."
Dr. Bajaj, Dr. Erickson and Dr. Ford will serve two-year terms as Vice-chairs, followed by two-year terms as Chairs of their respective Councils.
Back To Top