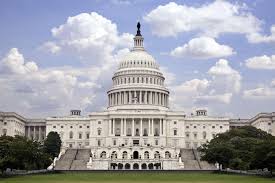 Radiation oncologists have come to Capitol Hill today to urge Congress to support policies that safeguard cancer patients' access to high-quality, value-based health care. The doctors will meet with Congressional leaders during the American Society for Radiation Oncology (ASTRO) Advocacy Day.
Radiation oncologists will emphasize several legislative priorities in meetings with policymakers: (1) allow radiation oncologists to participate in an advanced alternative payment model (APM) which will serve to stabilize Medicare payments and ensure patients have access to quality cancer care; (2) remove restrictive prior authorization requirements that unnecessarily delay patient access to cancer treatments; (3) support stable funding for the National Institutes of Health (NIH) and National Cancer Institute (NCI); and (4) protect medical access to radioactive material.
"Radiation oncologists from across the country are here to provide House and Senate lawmakers front-line stories about obstacles that patients encounter every day just to receive proven, trusted treatments for their cancer," said Paul Harari, MD, FASTRO, Chair of the ASTRO Board of Directors. "More than one million cancer patients are treated with radiation therapies each year, either to cure their cancer or relieve pain or symptoms. Radiation oncology provides immense value to the nation's health care system and insurance delays jeopardize patient's health and cause them unnecessary stress when cancer survival should be their primary focus."
Value-based Alternative Payment Models (view infographic)
In 2017 ASTRO proposed an alternative payment model for radiation oncology (RO-APM) that incentivizes radiation oncologists to adhere to nationally recognized clinical guidelines for five of the most common cancers treated with radiation therapy (breast, prostate, lung, colorectal, and head & neck). The RO-APM would allow radiation oncologists to participate fully in the transition to quality initiatives that improve cancer outcomes and reduce costs.
Most American cancer patients are Medicare beneficiaries, and a stable and fair system of compensation for Medicare providers is critical to ensure access to lifesaving cancer treatments, such as radiation therapy. The Medicare Access and CHIP Reauthorization Act (MACRA) reformed the health care system by accelerating the shift from "volume" to "value" in patient care.
Radiation oncologists will thank legislators for their support for a RO-APM, while also urging them to work with the Administration to move forward expeditiously with the launch of a value-based RO-APM that aligns closely with proposals from ASTRO and the radiation oncology community. ASTRO urges Congress to ensure that CMS adheres to complete transparency in releasing the details of the RO-APM and incorporates stakeholder feedback to avoid unintended consequences.
"The clock is running out and the need is urgent for an advanced alternative payment model for radiation oncology treatments. We urge Congress to work with the Administration to launch an RO-APM to protect patient's access to life-saving cancer care in community, rural and hospital-based settings," said Dr. Harari.
To realize the goals of MACRA, it is critical that an RO-APM be implemented before the freeze on key radiation therapy Medicare payments expires on December 31, 2019.
Prior authorization obstacles to patient care (view infographic)
Radiation oncology and cancer patients have been particularly hard hit by prior authorization's unnecessary burden and interference in care decisions. Radiation oncologists increasingly are restricted from exercising their clinical judgment in what is in the best interest of the patient; yet they are held accountable for the outcomes of treatments where decisions have been taken out of their hands.
In a recent ASTRO member survey, nearly all radiation oncologists (93%) said that their patients face treatment delays due to prior authorization, and a third (31%) said the average delay lasts longer than five days – a full week of standard radiation treatments. These delays cause added stress and anxiety to a patient already concerned about their health. Importantly, there is between a 1.2 to 3.2 percent increase in patient death for each week of delay in starting cancer treatments.
ASTRO recently signed a letter with the American Medical Association (AMA) and many other medical specialty societies, concerning Medicare Advantage prior authorization policies. ASTRO supports the contention that CMS should require Medicare Advantage plans to align their prior authorization requirements with the Consensus Statement on Improving the Prior Authorization Process.
Cancer research funding (view infographic)
ASTRO recently signed onto a coalition letter in support of increased federal cancer research funding in FY 2020. The letter asks congressional leaders for their support of robust and reliable funding for medical research conducted through NIH and NCI. Currently, 80 percent of federal funding for the NIH and NCI is spent on biomedical research projects at local research facilities across the country.
The federal investment in cancer research has played a role in every major innovation in the fight against cancer, including significant advances in radiation oncology, and has led to a decline in the overall number of cancer deaths in the United States. As of 2016, cancer death rates are down 27 percent over the past 25 years. Research has contributed to averting 2.4 million cancer deaths (1.8 million in men; 825,000 in women) to ensure researchers are able to continue their work, ASTRO urges Congress to increase NIH's budget by at least $2.5 billion in FY20 and NCI's budget by at least $378 million.
Access to radioactive source material (view infographic)
Finally, ASTRO members will advocate to preserve access to radioactive source-based technology in health care. Limiting health providers' access to radioactive isotopes would subsequently limit cancer patients' access to lifesaving radiation therapy treatments. ASTRO continues to support policies that enhance the safe and effective use of radioactive materials.
Back To Top