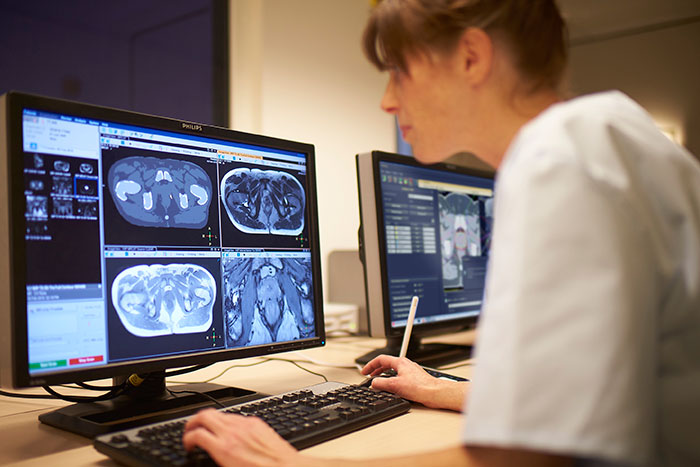 Photo: RTdrive MR Prostate, an automated workflow solution, streamlines the process from MR imaging to treatment planning with minimal user input, saving time and effort.
Along with showcasing its integrated radiation oncology solutions at ASTRO's 59th Annual Meeting in San Diego, California, Sept. 24-27, Royal Philips announced a heightened investment and new funding to build a comprehensive oncology platform.
"Philips is moving away from offering individual standalone products towards integrated workflow solutions to address the complexity of radiation oncology and do a better job of connecting the pieces together," said Ardie Ermers, general manager of Radiation Oncology at Philips.
Currently, treatment planning and delivery remains mainly a manual process that's very resource-dependent, said Ermers. "From the first simulation to the start of treatment is on average 10 days. We see an opportunity to really improve this," he told Applied Radiation Oncology. "It's really about integrating the components in the image to plan steps and automating the manual steps, which will reduce the amount of time it takes to start treatment and improve the consistency through reduced variability."
With an aging population and more cancer diagnoses worldwide, especially in the United States and China, the need for efficiency is becoming more relevant, said Ermers. This need, in part, fuels Philips' goal to enable clinicians to see and treat patients in the same day. "That's the goal we are working towards."
As part of its oncology push, Philips is leveraging its legacy skill set in imaging, IT, monitoring and care pathways, and is investing in digital pathology, genomics, oncology informatics and multiparametric diagnosis and analytics. The company will put a particular emphasis on prostate, breast, liver and lung cancer, as the first target disease types, said Ermers.
New innovations
Focused on enhancing precision, managing radiation successfully and reducing time to treatment, Philips' aim is to enhance consistency across the treatment planning process for radiation oncologists and their patients. Among Philips' latest innovations is RTdrive MR Prostate, the only workflow solution that combines imaging, MR-based auto-contouring, and workflow management to generate high-quality treatment plans that can enable simulation to treatment in the same day for prostate cancer.
While targeted radiotherapy can be effective, uncertainties throughout the process – from imaging to planning to treatment – can impact the quality of care. These uncertainties, combined with growing caseloads, higher patient throughputs and increasing pressure on resources, all present a challenge to providing efficient care. With innovations that can reduce these uncertainties, improve accuracy, and enhance the ability to assess therapy response and adapt treatment plans if necessary, radiation oncologists can confidently deliver consistent, high-quality care.
RTdrive MR Prostate enables radiation oncologists to generate high-quality treatment plans for prostate cancer with fewer manual steps by harnessing the power of the Ingenia MR-RT platform, MR-only simulation, Auto-Contouring and Pinnacle³ Auto-Planning. Due to this breakthrough in intelligent automation, radiation oncologists can create treatment plans more quickly with less effort, saving time and improving the patient experience.
"Oncology care teams strive to increase precision, accelerate time to treatment, improve patient care and enhance patient satisfaction," said Ermers in a press release. "Delivering on our commitment to provide meaningful innovations for patients and care providers, we have focused on developing solutions in radiation oncology to streamline workflows from start to finish."
The confident path to treatment
With integrated tools, systems and software that span from imaging to treatment planning, Philips' radiation oncology solutions streamline processes and workflows to improve radiotherapy planning and delivery.
This year, Pinnacle3 16 has a refreshed user interface and an overall improved look and feel. New features include Deformable Image Registration (DIR) incorporated into the Dynamic Planning module, and Intensity Modulated Proton Therapy (IMPT), which integrates Proton Photon planning into the Pinnacle3 16 Proton Planning environment.
Advancing radiotherapy innovation
In addition to RTdrive MR Prostate and Pinnacle3 16, Philips featured the following radiotherapy innovations at ASTRO:
iPatient for Big Bore CT– A patient-centered imaging workflow that helps drive consistency in image quality from scan to scan across diverse patient populations, which is particularly important in cancer cases. The iPatient platform provides a standardized approach to simulation imaging with advanced 4D imaging applications. The platform also successfully manages a patient's optimal radiation dose and image quality.
Ingenia MR-RT with MR-only simulation– A comprehensive MR simulation platform that provides high-quality, high-contrast MR images acquired in the treatment position to support confident delineation of targets and organs at risk.
Back To Top