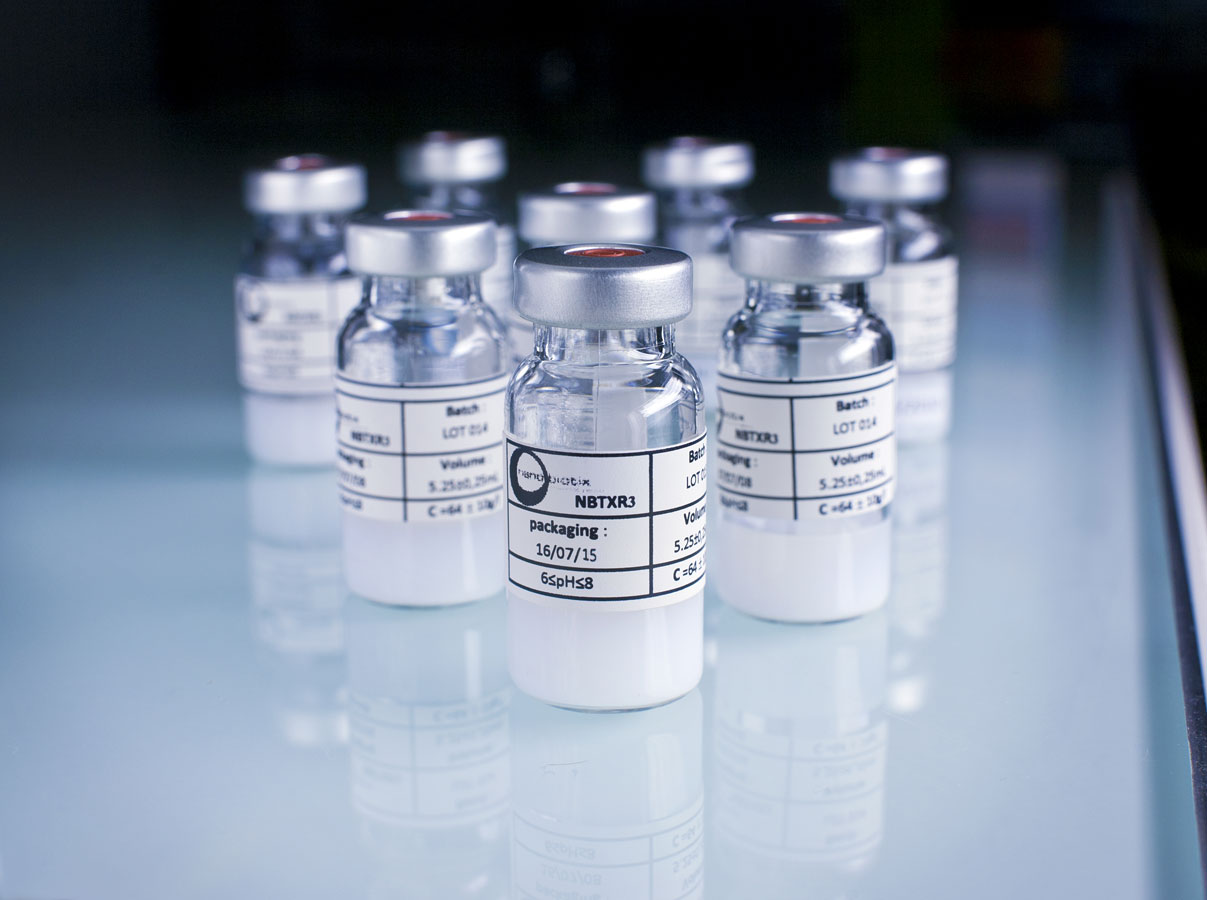 Nanobiotix has announced encouraging findings from the company's phase I study evaluating first-in-class radioenhancer NBTXR3 activated by stereotactic body radiation (SBRT). These data were presented at the ASTRO 2019 Annual Meeting in Chicago Sept. 15-18 by investigator Dr. Enrique Chajon ot the Centre Eugene - Marquis, Rennes, France.
The study was titled: Hafnium oxide nanoparticles activated by SBRT for the treatment of hepatocellular carcinoma and liver metastasis: a phase I/II trial
The population for this study included (i) hepatocellular carcinoma (HCC) patients with a minimum life expectancy of three (3) months that were unsuitable for local surgery or local treatment and (ii) liver metastasis (mets) patients with a minimum life expectancy of six (6) months whose tumors are unresectable. The total number of HCC patients was 11, the total numbers of mets patients was 6.
The HCC patient population has high unmet medical needs as they have underlying liver dysfunction and concomitant malignancies that limit treatment options. Stereotactic body radiation therapy (SBRT) is a well-tolerated alternative therapy, however the dose is limited by hepatic function which is widely impaired in this group. Therefore, these patients need a way to increase the dose delivered to the tumor while sparing surrounding healthy tissues without additional strain on the liver. Moreover, given the short life expectancy of these patients, the need is particularly urgent.
Given that NBTXR3 is inert unless exposed to radiotherapy, is not metabolized by the liver, and can be administered regardless of liver and renal function, the first-in-class treatment offers an opportunity to increase the efficacy of SBRT while maintaining tolerable dose levels for the patient. In this study, the safety profile of NBTXR3 activated by SBRT was similar to SBRT alone with no dose-limiting toxicity (DLT). Additionally, NBTXR3 also proved to remain within the injected tumor with no leakage to surrounding tissue.
To date, 62.5% of evaluable HCC patients have shown a complete response while the rest have shown partial response. These results show that NBTXR3 activated by SBRT may present as a valuable option in patients with HCC not amenable to curative local treatment or with unresectable liver metastases.
In liver mets, 50% of patients have shown partial response and 50% show stable disease.
Given that the safety profile was very good and there were no DLTs, the protocol was amended to include a fifth dose escalation level of 42%. Three (3) patients have already been recruited and recruitment is expected to be complete in Q4. Results for all patients are expected in Q1 2020.
These results are significant for the Company as they increase the scope of patients NBTXR3 may treat beyond Soft Tissue Sarcoma and Head and Neck cancer. The Company remains focused on its head and neck plan but will now accelerate integration of HCC into its go-to-market strategy.
Oral Presentation at ASTRO 2019 Annual Meeting: Key Takeaways
NBTXR3 activated by stereotactic body radiation therapy (SBRT) was safe and well-tolerated at each of the four (4) dose escalation levels
NBTXR3 remained in the tumor from injection through the end of radiation therapy without leakage to surrounding healthy tissue
Study showed positive signs of efficacy for hepatocellular carcinoma (HCC) patients, as every evaluable patient responded and over half (62.5%) reached complete response
Given that the safety profile was very good, a 5th dose escalation level has been added to the trial and is currently recruiting
These results, HCC particularly, are significant as they may widen the scope of indications NBTXR3 can treat and bolster the Company's go-to-market strategy
"The patient population in this study has significant unmet needs primarily due to pre-existing issues with hepatic function. When you combine that with the fact that there is low life expectancy for this group, you have a critical need for innovative treatment solutions. These data provide promising evidence that NBTXR3 activated by SBRT could be a valuable option with excellent safety and increased efficacy, presenting a new way to improve outcomes for these patients." – Dr. Enrique Chajon, ASTRO 2019 Presenter for NANORAY-103
About NBTXR3
NBTXR3 is a first-in-class product designed to destroy tumors through physical cell death when activated by radiotherapy. NBTXR3 has a high degree of biocompatibility, requires one single administration before the first radiotherapy treatment session, and has the ability to fit into current worldwide standards of radiation care. The physical mode of action of NBTXR3 makes it applicable across solid tumors such as lung, prostate, liver, glioblastoma, and breast cancers.
NBTXR3 is actively being evaluated in head and neck cancer with locally advanced squamous cell carcinoma of the oral cavity oropharynx in elderly and frail patients unable to receive chemotherapy or cetuximab with very limited therapeutic options. Promising results have been observed in the phase I/II trial regarding the local control of the tumors. In the United States, based on the discussions with the Food and Drug Administration that occurred in the first half of 2019, the Company plans to begin the clinical trial authorization process in the second half of 2019 and commence a phase II/III clinical trial in locally advanced head and neck cancers.
Nanobiotix is also running an Immuno-Oncology development program. In the United States, the Company received approval from the Food and Drug Administration to launch a clinical trial of NBTXR3 activated by radiotherapy in combination with antiPD-1 antibodies in lung, and head and neck cancer patients (head and neck squamous cell carcinoma and non-small cell lung cancer).
The other ongoing NBTXR3 trials are treating patients with liver cancers (hepatocellular carcinoma and liver metastasis), locally advanced or unresectable rectal cancer in combination with chemotherapy, head and neck cancer in combination with concurrent chemotherapy, and prostate adenocarcinoma. Further, the company has a large-scale, comprehensive clinical research collaboration with The University of Texas MD Anderson Cancer Center (9 new phase I/II clinical trials in the United States) to evaluate NBTXR3 across head and neck, pancreatic, thoracic, lung, gastrointestinal and genitourinary cancers.
Back To Top