During its Users Meeting at the 2018 American Society for Radiation Oncology (ASTRO) Annual Meeting, Varian shared details of its development work on an artificial intelligence (AI)-driven multimodality adaptive radiotherapy treatment suite that is being designed to deliver high quality treatments, and incorporates all types of imaging (MR, PET, CT) without compromise.
During his presentation at the meeting, Ed Vertatschitsch, vice president of Global Portfolio Solutions at Varian, outlined how the AI-driven multimodality suite is being designed to provide significant workflow improvements for clinicians and make it possible for a busy clinic to offer adaptive therapy to every patient that would benefit.
"We are creating a treatment suite that includes treatment planning, treatment delivery, and patient monitoring to fuel the next generation of radiation therapy," stated Vertatschitsch. "We are doing this through multimodality imaging available at the console in combination with next generation AI-driven auto-segmentation and treatment planning. We will make use of state of the art treatment delivery including 17-second high-resolution kV iterative cone-beam CT imaging and our advanced multi-leaf collimator design to enable delivery arcs that require just 30-seconds."
During his presentation, Vertatschitsch also discussed Varian's work to create a solution that offers an integrated workflow that makes it straight forward for the clinician to communicate the physician's intentions, adapt and monitor the patient treatments.
"Based on input from our clinical partners around the world, having MR, PET, and CT imaging all available at the console and utilization of AI automation could transform what they can visualize and adapt," said Chris Toth, president of Varian's Oncology Systems business. "We want to create a streamlined workflow that increases patient access to adaptive therapy even in the busiest clinics."
Bravos brachytherapy afterloader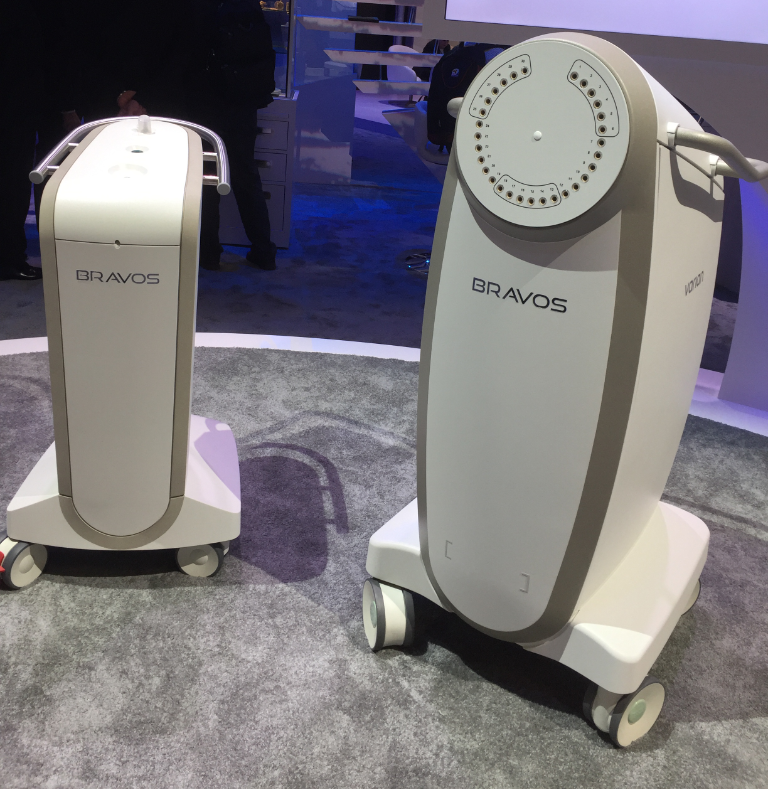 Varian has announced the Bravos™ afterloader system for High Dose Rate (HDR) brachytherapy treatments. Based on over five years of in-clinic research, Bravos is an integrated system designed to improve the patient and clinic experience by simplifying brachytherapy treatment and providing greater workflow efficiency.
HDR brachytherapy involves delivering radiotherapy by temporarily placing a tiny radioactive source directly into the tumor or other targeted area. Using an afterloader, clinicians are able to position the radioactive source in a needle, catheter or tumor-specific applicator following a pattern that has been designed to create a highly conformal dose distribution within or on the surface of the patient's anatomy. Once the treatment is completed, the afterloader safely returns the source to the afterloader.
To simplify the treatment process, the Bravos afterloader features a touchscreen control and instinctive LED lights. The touchscreen provides easy access to patient treatment information on the afterloader, eliminating the need for the clinician to leave the room to retrieve patient and treatment information. The green, yellow and red LED lights on Bravos guide clinicians through the correct connection process of the transfer guide tubes. The green lights signal a proper connection and the yellow and red lights alert the clinician to areas needing correction.
To help increase efficiency of the treatment process, Bravos features a customizable pre-treatment checklist on the touchscreen. Like surgical procedures, the customizable checklist allows the clinician to set a review process including a time-out for patient safety, and e-signatures for speed and accuracy.
"We are excited about the capabilities of Bravos and have already begun treating patients in our department," said Vicki Currie, lead Brachytherapy Physicist, Norfolk & Norwich University Hospital. "As we continue to use and learn the features in this new system, the clinical efficiencies will enable us to improve our Brachytherapy workflow."
"After spending time in clinics around the world talking with the treatment teams, we saw the opportunity to create a system that is easy to use and creates greater efficiencies, allowing clinicians to spend more time with the patient," said Ed Vertatschitsch, vice president, Global Portfolio Solutions, Varian. "Bravos is a big step forward for brachytherapy treatments and we will continue to collaborate with our partners in achieving new victories against cancer."
Bravos integrates with Varian's BrachyVision™ for treatment planning and offers interoperability with Varian ARIA® oncology information system. Bravos has received CE mark and FDA 510(k) clearance.
For more information on Bravos visit www.varian.com/bravos.
Back To Top