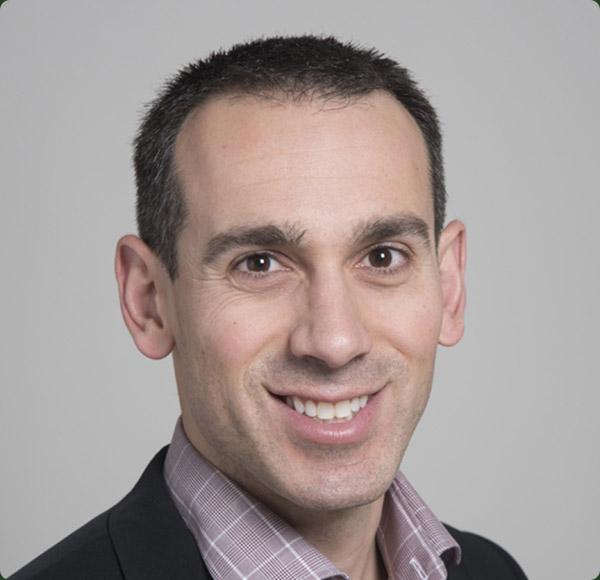 Showcasing results of important clinical trials are a highlight of the ASTRO Annual Meeting. One of the most exciting this year is that high-dose, high-precision radiation therapy significantly extends survival for patients with oligometastatic cancer, and can double the length of time that these patients remain progression-free. Co-principal investigator David Palma, MD, PhD, (pictured left) of the Lawson Health Research Institute in London, Ontario, is presenting the final results of the Stereotactic Ablative Radiotherapy for Comprehensive Treatment of Oligometastatic Tumors (SABR-COMET) trial, a four-nation, 10-center randomized phase II clinical trial.
Oligometastatic disease is a stage in which cancer is not yet widely metastatic and for which local ablative therapy may be curative. The clinical trial was initiated in 2012 to determine whether stereotactic ablative radiotherapy (SABR), also called stereotactic body radiation therapy (SBRT), could improve the clinical outcomes and overall survival and quality of life in patients who had developed up to five metastatic lesions from a variety of cancers. Prior research studies demonstrated that SABR was improving survival for patients with lung, liver, brain, bone and adrenal metastases, but no randomized clinical trial had been conducted.1
The final results of the SABR-COMET trial support this early research. Patients who received SABR lived 57% longer than patients who received palliative radiation therapy, specifically a median of 41 months compared to 26 months. Additionally, cancer did not progress for a median of 12 months for SABR-treated patients, compared to six months for the control group.
Ninety-nine patients were enrolled between February 2012 and August 2016, receiving treatment at one of seven centers in Canada, and in Australia, the Netherlands, and Scotland. They ranged in age from 43 to 89 years. The patients had metastases from breast (18), lung (18), colon or rectum (18), and prostate (16) cancers. Seven patients had four or five metastatic lesions, and the others three or less. There were no significantly different characteristics at the time of enrollment between the two patient groups.
Two-thirds of the patient cohort were enrolled in the SABR treatment group, and received very large, hypofractionated doses with high precision to small tumor targets. Protocols for treatment were based on those used by the two sponsoring organizations: the London Regional Cancer Program in Canada and the Vrije University Medical Center in Amsterdam. Radiotherapy dose and fractionation were determined on the site of a metastatic lesion and its proximity to critical normal structures. The control group received standard palliative radiation therapy with the goal of alleviating symptoms and/or preventing complications.
The SABR group experienced a much higher percentage of toxicities, at 30% compared to 9%. Three patients in the SABR group died, one from radiation pneumonitis, one from a pulmonary abscess, and one from subdural hemorrhage after surgery to repair a SABR-related perforated gastric ulcer.
"We were surprised and quite pleased," Dr. Palma said. "We didn't expect survival benefit to be quite so long for patients with metastatic disease." He noted that nearly half of the patients treated with SABR were alive five years following treatment, compared to only 24% in the control group.
"Stereotactic radiation therapy needs to be delivered carefully and by an experienced team, and there is a small risk of very serious side effects as well as mortality," added Dr. Palma, who also is a clinician-scientist at the Ontario Institute for Cancer Research in Toronto, which provided funding for the study.
"But overall...the survival benefit of SABR appear to outweigh these risks."
"Stereotactic radiation therapy can increase how long these patients live and how long they live without their cancer coming back," he continued, "and it doesn't seem to have a detrimental impact on their quality of life."
The international research team is planning a follow-up study called SABR-COMET-10 that will enroll patients with up to 10 metastatic lesions.
Local consolidative therapy improves overall survival for patients with oligometastatic NSCLC
Another exciting clinical trial targeting oligometastatic cancer will be discussed at ASTRO on Oct. 21. Daniel Gomez, MD, associate medical director of radiation oncology at the University of Texas MD Anderson Cancer Center in Houston, will examine positive clinical trial findings relating to the treatment of stage IV patients with non-small-cell lung cancer (NSCLC) oligometastatic tumors. The randomized phase II study assessing the efficacy of local consolidative therapy began in late November 2012. It was terminated prematurely after an interim analysis revealed that patients who underwent local consolidative therapy, compared with those who received maintenance treatment, only had nearly three times as long progression-free survival (median 11.9 months versus 3.9 months respectively).2
The study cohort included 49 patients who received treatment at MD Anderson Cancer Center, London Health Sciences Center in Ontario, Canada, and the University of Colorado Health Sciences Center in Aurora for stage IV NSCLC cancer with one to three metastatic disease lesions. All patients received systemic therapy that consisted of four or more cycles of standard chemotherapy, followed by either surgery or radiation therapy at the tumor site (25 patients) or standard systemic maintenance therapy and observation (24 months).
Dr. Gomez will detail survival rates between the two groups as well as extended follow-up data on progression-free survival benefits.
REFERENCES
Palma DA, Haasbeek CJA, Rodrigues GB, et al. Stereotactic ablative radiotherapy for comprehensive treatment of oligometastatic tumors (SABR-COMET): Study protocol for a randomized phase II trial. BMC Cancer. 2012;12:305.
Gomez DR, Blumenschein Jr GR, Lee JJ, et al. Local consolidative therapy versus maintenance therapy or observation for patients with oligometastatic non-small-cell lung cancer without progression after first-line systemic therapy: a multicentre, randomised, controlled, phase 2 study. Lancet Oncol. 2016;17(12):1672-1682.
Back To Top