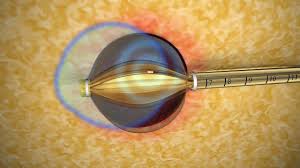 Condensing breast brachytherapy irradiation to a 3-fraction treatment over 2-3 days has been proven dosimetrically feasible, with low toxicity and excellent short-term tolerance, according to early clinical trial results presented at the American Brachytherapy Society (ABS) annual meeting held in Miami in June. An ultrashort course of accelerated partial breast irradiation (APBI) can reduce the amount of radiation delivered to healthy tissue, minimize delays in systemic/local therapy, and be more convenient for patients.
Breast brachytherapy APBI is an approved standard of care comparable to whole-breast irradiation for carefully selected women with localized breast cancer, negative margins, and no involved lymph nodes. However, its typical 7-10 fraction treatment delivered in 5-7 days may not be feasible for some patients, especially those who live far from treatment facilities. Other patients may feel uncomfortable about having an in-dwelling catheter and a wound requiring daily care. A possible shorter option, single-treatment intraoperative radiation therapy performed at the completion of lumpectomy surgery, is riskier if postsurgical histology identifies positive margins or lymph node involvement.
The TRI-faction Radiotherapy Utilized to Minimize Patient Hospital Trips (TRIUMPH-T) Trial was launched in August 2015 to study the toxicity, cosmesis, and actuarial local tumor-control rates of a 3-fraction breast brachytherapy treatment in a 200-patient cohort. Atif J. Khan, MD, the original principal investigator and a radiation oncologist at Memorial Sloan Kettering Cancer Center in New York City, and co-investigators hypothesized that this ultrashort schedule would have comparable outcomes to 7-10 fraction APBI and conventional 5-6-week whole-breast irradiation.
The safety of this ultrashort APBI treatment had been demonstrated in a previous study conducted at the Rutgers Cancer Institute of New Jersey in New Brunswick, in which Dr. Khan and several other authors had participated.1 This clinical trial was never completed, but its investigators remained interested in evaluating compressed radiation schedules. They initiated the TRIUMPH-T phase 2 clinical trial, funded in part by Cianna Medical (Alisa Viejo, California), Elekta (Stockholm, Sweden), and Rutgers University.
The researchers wanted the trial to reflect real-world clinical practice. They recruited 200 women with early stage breast cancer (79% invasive ductal, 14% ductal carcinoma in situ, and 7% invasive lobular) ranging in age from 48 to 88 years, with tumors < 3.0 cm, and who met the established criteria for APBI treatment.2
Eight leading cancer treatment centers were invited to participate. Seven, including the Cancer Institute of New Jersey, treated approximately half of the patients. The other half received treatment at Arizona Breast Cancer Specialists, a community-based practice headed by an APBI-pioneering radiation oncologist, Robert Kuske, MD.
"We selected sites with known expertise in the field of brachytherapy," Dr. Khan told Applied Radiation Oncology. "The ultrashort-course APBI schedules evaluated in this trial are, to some extent, pushing the envelope of current brachytherapy practice. We wanted to ensure that this groundbreaking work would be conducted by practitioners with the skill and attention to detail needed with this technique."
The patients received 22.5 Gy in 3 fractions of 7.5 Gy, to a planning treatment volume 1-1.5 cm beyond the surgical cavity. The researchers selected 7.5 Gy x 3 as the closest approximation exceeding 71.8 Gy4, comparable to a reference tumor biologically effective dose (BED), and the closest dose approximating a 25-fraction whole-breast irradiation regimen of 50 Gy. Radiation was administered using either 2 single-entry devices (63% of patient cohort) or a multicatheter interstitial device (37%).
The use of differing brachytherapy devices was deliberate. "There are a variety of devices and techniques that may be used, based on the comfort level and skill of the physician, and patient and/or tumor-related factors," explained Dr. Khan. "We wanted these various approaches in the TRIUMPH-T trial in order for the results to be as broadly relevant to current practice has possible."
Dr. Khan said he uses all brachytherapy techniques and devices, making a selection based on optimum outcome potential. "I believe all the brachytherapy approaches have a place in the treatment landscape. The choice of which one to use should be based on the specifics of each case," he added.
Patient recruitment was completed in August 2017, and patients have been followed a median of 12 months. The researchers reported a total of 90 grade 1, 23 grade 2, and 3 grade 3 toxicities, experienced by 39% of the patients. The most commonly reported side effects were radiation dermatitis, breast pain, and deep-tissue fibrosis. Two patients had grade 2 breast infections requiring antibiotics and 2 patients with grade 3 nonhealing wounds required surgical intervention.
"The complications in the TRIUMPH-T Trial were similar to what has been reported for the 10-fraction breast brachytherapy regimen," said Dr. Khan. "We did not observe any incremental increase in toxicity in the 3-fraction regimen with any of the techniques used."
The researchers reported that short-term local tumor control has been excellent, with only 1 patient experiencing breast tumor recurrence and bone metastasis. One patient had regional nodal failure, and cosmesis was rated good to excellent for 177 out of 182 patients available for analysis.
The researchers will be formally presenting 3- and 5-year outcomes. Dr. Khan is hopeful that they will remain comparable.
"Longer-term follow-up data is needed before this approach is offered in standard practice," he explained. "We have now established that dosimetric constraints are readily achievable and that the expected outcomes are comparable to those found in the control data to date."
"Utilization of the shortest appropriate schedules could increase the proportion of women alive with a conserved breast by increasing the number of women with access to radiation therapy treatment that is realistic for them to do. We hope that ultrashort breast brachytherapy treatment, once further validated, will give breast cancer patients for whom breast-conservation surgery and radiation therapy may not seem otherwise possible, particularly in geographies with limited resources, this treatment option," he concluded.
REFERENCES
Khan AJ, Vicini FA, Brown S, et al. Dosimetric feasibility and acute toxicity in a prospective trial of ultrashort-course accelerated partial breast irradiation (APBI) using a multi-lumen balloon brachytherapy device. Ann Surg Oncol. 2013;20(4):1295-1301.
Khan AJ, Chen PY, Yashar C, et al. Three-fraction accelerated partial breast irradiation (APBI) delivered with brachytherapy applicators is feasible and safe: first results from the TRIUMPH-T Trial. Int J Radiation Oncol Biol Phys. 2019;104(1):67-74.
Image/courtesy Hologic
Back To Top