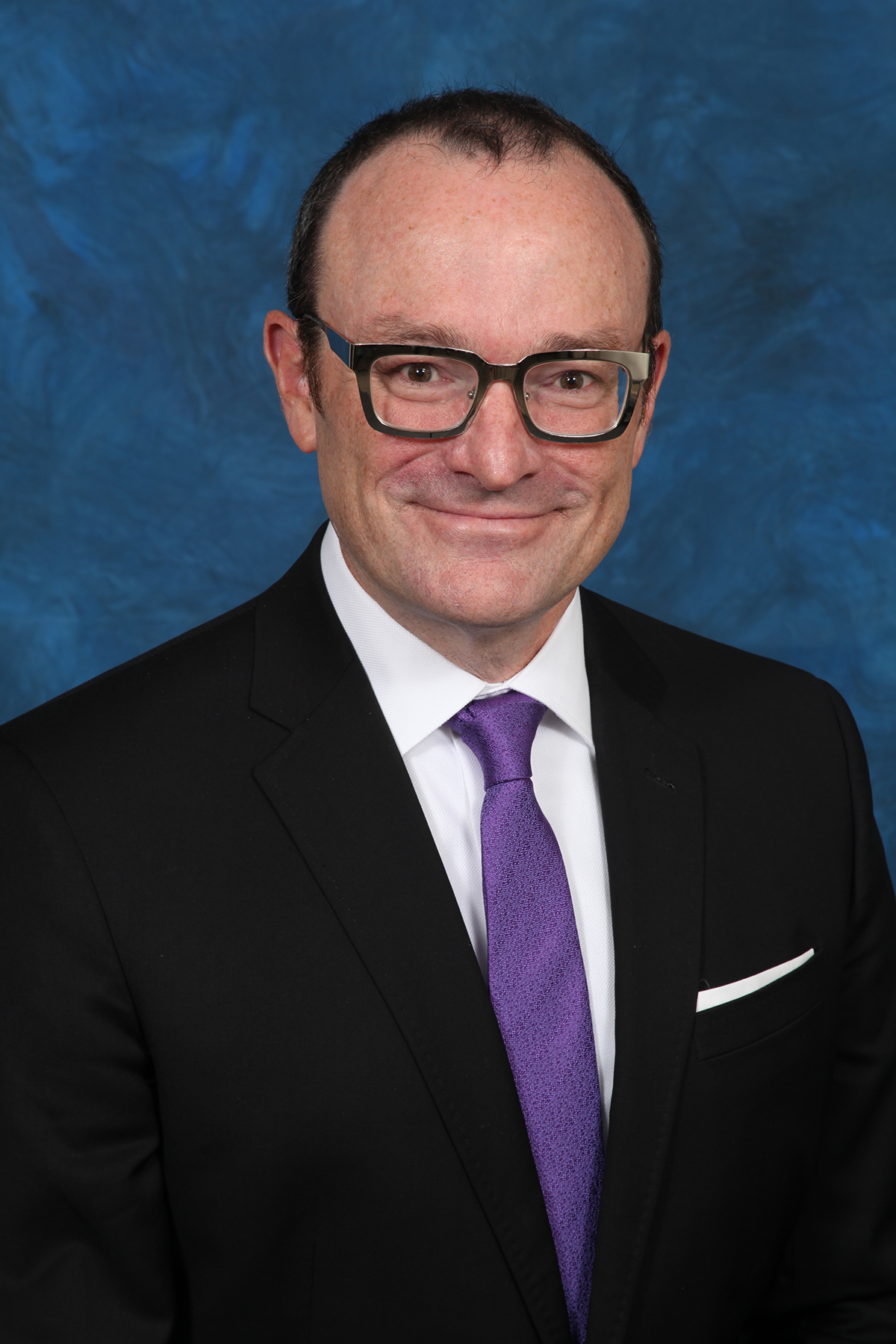 Tapping into the wealth of benefits afforded by social media, ASTRO began to actively promote its use at the 2017 Annual Conference to disseminate news and events of the meeting. Building on last year's success, ASTRO has named 8 physicians as "Top Docs to Follow on Social Media at #ASTRO18" in San Antonio, Oct. 21-24. (See graphic for details.)
Brian D. Kavanagh, MD, (left) professor and chair of the department of radiation oncology at the University of Colorado School of Medicine in Aurora, is excited about ASTRO's endorsement of social media. In addition to providing near-live commentary at the meeting to anyone interested in radiation therapy as a cancer treatment, he said ASTRO is working on a broad campaign to get its members more involved in using social media in general. Among efforts is a "TweetUp" (Oct. 21 at 4:45 at the Ask ASTRO booth, main lobby) so participants can meet face-to-face and personalize distant relationships.
"We believe that social media is a great forum for not only public education and discussions of new findings among ASTRO members, but also a good way to share information with patients and other stakeholders," he said, noting there's a substantial amount of research that went into assessing patient opinions and information needs. Additional information is also available on ASTRO's patient information website, www.RTanswers.org
Dr. Kavanagh explained that the 2017 ASTRO annual meeting was constructed with awareness of and integration of social media. Interested individuals who weren't onsite could ask questions and share opinions using the #ASTRO17 hashtag.
New to the 2017 meeting, ASTRO designated a group of social media-savvy members to be social media ambassadors. "I was a member of this group as I am for 2018," said Dr. Kavanagh. "We have been assigned the task of attending as many educational sessions as possible and tweeting updates at the meeting, such as photos of colleagues, highlights of scientific presentations, and anything else that we thought was interesting from the convention center and surrounding venues."
There were 8,220,000 Twitter impressions for #ASTRO17. Eight hundred sixty-one attendees participated, initiating 3,181 tweets.1 This included thoracic surgeons who commented in real-time on controversial topics such as stereotactic radiation therapy for patients with operable lung cancer.
Among "an embarrassment of riches in terms of practice-changing research" on tap at the 2018 meeting, Dr. Kavanagh is eager to follow studies on treatment techniques in the management of breast and prostate cancer, and an important study on radiation treatment for head and neck cancers triggered by the human papilloma virus (HPV). This study compares two radiosensitizers each combined with radiotherapy.
"The elegantly simple design of the study gives clinicians uncommon clarity in this setting, and sets the stage for future studies to build upon its result," he said.
Along with Dr. Kavanagh, 2018 Top Tweeters Daniel M. Trifiletti, MD, a radiation oncologist specializing in brain tumors at Mayo Clinic Jacksonville in Florida, and Drew Moghanaki, MD, director of clinical radiation oncology research at Hunter Holmes McGuire Veterans Affairs Medical Center in Richmond, Virginia, are excited about practice-changing studies for the treatment of metastatic cancer yielding a positive survival benefit for patients. (See https://appliedradiationoncology.com/articles/astro-18-fighting-ogliometastases-with-aggressive-rt).
"The results of the SABR-COMET trial could redefine the care of patients with metastatic cancer. I am very excited about these prospective results, as they will very likely change the way that I care for my patients," said Dr. Trifiletti.
"There is definitely increased interest among all oncologists in how patients with brain cancers are treated," he added. "Several important results to be presented at ASTRO this year will describe the relationship between new systemic agents, like immunotherapy, and their integration with focused radiation treatments like radiosurgery and stereotactic body radiation therapy (SBRT).
"It is hypothesized that focused radiation can synergize with these novel systemic agents to improve cancer control throughout the body. Along these lines, we will be presenting the results of our large analysis on this topic for patients with brain metastases," Dr. Trifilleti said.
Another Top Doc to follow, Malika L. Siker, MD, associate professor of radiation oncology at the Medical College of Wisconsin in Milwaukee, said she hopes to use her platform "to elevate issues important to me such as diversity, inclusion and health equity, and put the spotlight on the incredible researchers, clinicians, and patients in our field."
Dr. Siker is vice chair of ASTRO's Committee for Health Equity, Diversity and Inclusion, which is sponsoring a panel discussion on the impact of the Affordable Care Act on cancer care of the underserved and a session on achieving gender equality in radiation oncology. Three speakers will also present at the Annual NCI/ASTRO Diversity Symposium, "Increasing Minority Enrollment in Clinical Trials in Radiation Oncology: Why and How."
"The field of radiation oncology is very small. As a young female radiation oncologist, I enjoy attending the ASTRO Annual Meeting to learn about the newest research, advocate for my field, and network with my colleague," she added. "The virtual meeting enhanced by social media is helpful in bringing research and education to those who cannot attend."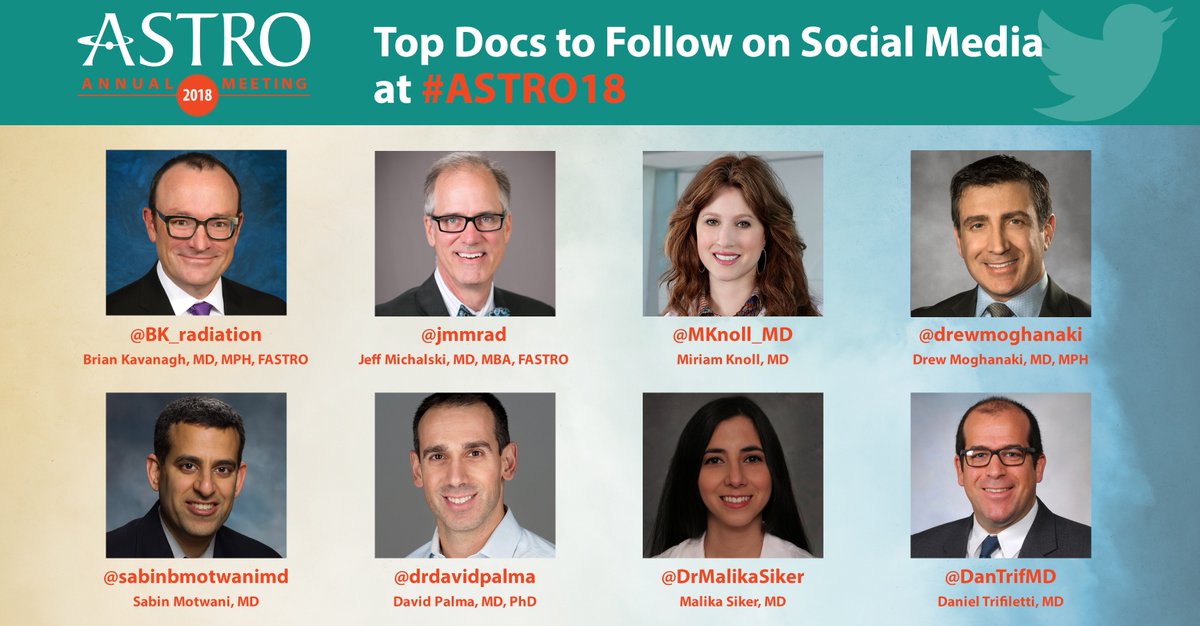 REFERENCE
Knoll MA, Kavanagh B, Katz M. The 2017 American Society of Radiation Oncology (ASTRO) annual meeting: Taking a deeper dive into social media. Adv Radiat Oncol. 2018;3(3):230-233.
ADDITIONAL READING
Bibault JE, Katz SM, Motwani S. Social media for radiation oncologists: A practical primer. Adv Radiat Oncol. 2017;2(3):277-280.
Back To Top